American Loser
(2007)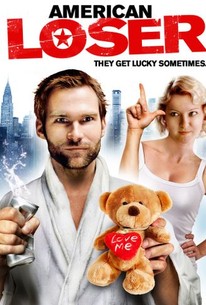 AUDIENCE SCORE
Critic Consensus: No consensus yet.
Movie Info
A man attempts to deal with a truly remarkable variety of personal and emotional problems in this comedy drama based on the real-life experiences of comedian and author Jeff Nichols. Jeff (Seann William Scott) is a man edging into his thirties who has a serious drinking problem along with Attention Deficit Disorder, Dyslexia and Tourette's Syndrome; to say Jeff has a hard time dealing with others stretches the boundaries of understatement, and he devotes a fair share of his day to support meetings, even ones dealing with conditions which don't involve his problems. Jeff prefers to blame his wealthy parents (Dierdre O'Connell) and (Denis O'Hare) for his problems, even though they haven't done much besides stand aside as he's burned down their home. Unable to hold down a job, Jeff has been evicted from the garage he was renting from Bert (Kevin Conway), who can no longer handle his many eccentricities, but with nowhere else to go, he somehow charms his way into the heart and home of Lynn (Gretchen Mol), a woman he met at a support group for people with relationship problems. While Lynn is a walking mass of phobias regarding men and romance, she discovers something in the damaged Jeff that encourages her to take a chance on him. Adapted from Nichols's autobiography The Little Yellow Bus, Trainwreck: My Life As An Idiot was the first theatrical feature from director Tod Harrison Williams.
Critic Reviews for American Loser
All Critics (1) | Fresh (1) | Rotten (0)
Tod Harrison Williams directs with a sense of humour that never takes cheap shots but isn't overtly reverential to the author, and the playful tone helps make the film entertaining as well as offbeat.
Audience Reviews for American Loser
½
★★ (out of four) This is a film that doesn't know what it wants to be. I give Seann William Scott some credit for attempting to do something a bit different, only to have the film later promoted as an "American Pie" copy. The title was changed for its DVD release to "American Loser" and a zany photo of Scott appears with a white background and big red lettering. Back to actual movie, even seems scared to go out on a limb. The movie becomes very annoying in its dullness. Scott plays a young man in his thirties who is battling mental disorders and an alcohol problem. He is passed around, unable to cope with the everyday life struggles, making it hard to form any kind of lasting relationships. I wish the film had focused more on the difficulties someone in his situation has, rather than try and make the sadness somewhat amusing. [IMG]http://img.photobucket.com/albums/v48/Zeppo1/Americanloser.jpg[/IMG]
Steve Smith
If you were looking for this movie in the store it's actually called American Idiot. But I would stop looking because I turned this off. It doesn't hold your interest and honestly you feel sorry for the guy to the point where even our vouristic tendencies don't help the situation.
Sarah Helwig
½
A unique and interesting movie, filled with humorous subtleties and imagery. Miles apart from anything else Seann William Scott has ever done.
Josh Anderson
American Loser Quotes
There are no approved quotes yet for this movie.
Discussion Forum
Discuss American Loser on our Movie forum!