The American Mall
(2008)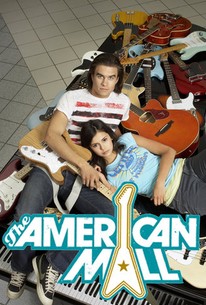 AUDIENCE SCORE
Critic Consensus: No consensus yet.
Movie Info
The executive producers of High School Musical keep the good times rolling with this upbeat musical comedy set in the one place every American teenager's home away from home - the local shopping mall. Ally (Nina Dobrev) is an optimistic adolescent singer/songwriter whose hard working mother owns the mall music shop frequented by every teen in town. When Ally shares her music with Joey (Rob Mayes), a janitor in the mall who harbors rock star ambitions, she is thrilled to find someone who can truly relate to her songs as well as her heart. Trouble looms on the horizon, however, in the form of the mall owner's spoiled rotten daughter Madison (Autumn Reeser). Madison is the kind of girl who's used to getting whatever she wants, and what she wants now could prove disastrous for both Ally's ambitions, and her mother's popular music store.
Rating:
G
Genre:
, , ,
Directed By:
Written By:
In Theaters:
On DVD:
Runtime:
Studio:
MTV Networks, Inc
Critic Reviews for The American Mall
All Critics (2) | Fresh (2) | Rotten (0) | DVD (1)

The young cast is full of charmers with great big voices... These performances win us over when the screenplay cannot.

Audience Reviews for The American Mall
loved it...maybe just cause it had Nina in it n shes my fave i wish they could have really let HER sing instead of dubbing her
Kayla Wilkerson-Hill
:rotten: [color=yellowgreen]1/2[/color] (out of four) [color=palegreen]With the success of the [b][i]High School Musical[/i][/b] movies, there is bound to be a ton of rip-offs. [QUOTE]While those Zac Efron flicks are no classics, they are at slightly least better than this weak attempt.[/QUOTE] [/color] [color=#98fb98][/color] [color=#98fb98]Set in a mall, our heroine must try and find a way to keep the evil owner's daughter from kicking her Mom out of the Mall, while also hooking up with the sexy janitor to pursue her singing career.[/color] [color=#98fb98][/color] [color=#98fb98]The lead actress is cute enough, but one of the biggest problems is I couldn't stand her voice. The creator's seemed to think that a slightly stronger Brttney Spears voice was actually a good idea. It wasn't. She seemed to attempt to mimic the talentless Ms. Spears. On top of that, the songs are terrible. There is not a single one anyone will be able to remember more that three minutes after the movie ends.[/color] [color=#98fb98][/color] [color=#98fb98]This won't be the last of the new teen musical sensation, which is fine since even teens need something to get excited about, but lets hope they find a way to inject something a little bit more appealing next time around.[/color]
Steve Smith
Dreadful musical with appallingly bad choreography and dancing. The music and lyrics is an embarassment. Silly nonsense and rather nauseating. Very badly acted, dumb predictable story. Awful.
James Higgins
The American Mall Quotes
There are no approved quotes yet for this movie.