American Ninja
(1985)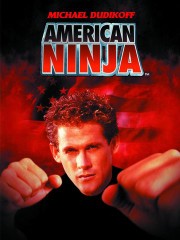 American Ninja Trailers & Photos
Movie Info
Based in the Philippines, an American GI stumbles upon a crooked arms racket involving the very military he works for. Attempting to thwart their activities, he fights his way through many villains and manages to rescue a damsel in distress along the way.
more
Cast
News & Interviews for American Ninja
Critic Reviews for American Ninja
Audience Reviews for American Ninja
Michael Dukikoff's great on his skills and abilities as a ninja hero.
Dean McKenna
Super Reviewer
½
First off- f### all you. American Ninja is a great damn movie and you know it. Of course it's no masterpiece- it's Canon. But it is still incredible. It is everything you could want in a movie called American Ninja. Didikoff has every right to be a bitter asshole (if he is- I have no idea, but would rather think not because I like my heroes pure) because he could have been a great action star and this movie shows that. He's a hell of a lot better than Schw/Norris/Van-Damn in their first films and think how much glorious action has come from them. American Ninja has a badass US Army Ninja who barely speaks (Snake Eyes anyone?) a badass roundhousing black Sgt. with a badass fro, evil ninja, mean foreign drug lords, and a lost father-son subplot to boot. Fuck you all. This movie deserves 5 stars for effort, but I don't believe in participation trophies either, so 4.5 it remains. Great action, great fun, THE perfect "ninja" movie, and even a really impressive soundtrack to boot. Those horns will blare strong and high in your mind till the day you die. Dont hate.

4.5
Tyler F
Discussion Forum
Discuss American Ninja on our Movie forum!
News & Features