American Ninja
(1985)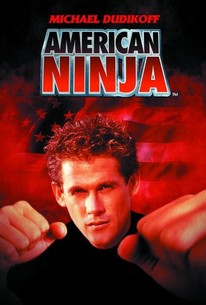 American Ninja Videos
American Ninja Photos
Movie Info
Based in the Philippines, an American GI stumbles upon a crooked arms racket involving the very military he works for. Attempting to thwart their activities, he fights his way through many villains and manages to rescue a damsel in distress along the way.
Rating:
R (adult situations/language, violence)
Genre:
,
Directed By:
Written By:
In Theaters:
On DVD:
Runtime:
Studio:
MGM Home Entertainment
Cast
Critic Reviews for American Ninja
Audience Reviews for American Ninja
½
First off- f### all you. American Ninja is a great damn movie and you know it. Of course it's no masterpiece- it's Canon. But it is still incredible. It is everything you could want in a movie called American Ninja. Didikoff has every right to be a bitter asshole (if he is- I have no idea, but would rather think not because I like my heroes pure) because he could have been a great action star and this movie shows that. He's a hell of a lot better than Schw/Norris/Van-Damn in their first films and think how much glorious action has come from them. American Ninja has a badass US Army Ninja who barely speaks (Snake Eyes anyone?) a badass roundhousing black Sgt. with a badass fro, evil ninja, mean foreign drug lords, and a lost father-son subplot to boot. Fuck you all. This movie deserves 5 stars for effort, but I don't believe in participation trophies either, so 4.5 it remains. Great action, great fun, THE perfect "ninja" movie, and even a really impressive soundtrack to boot. Those horns will blare strong and high in your mind till the day you die. Dont hate. 4.5
Tyler F
Ninja stereotypes and an American soldier whose magical youthful training somehow makes him superhuman. No matter how rigorous the training is from the "master Ninja" - they just can't compete with our magical American ninja. This movie is laughably dated too. The insider arms deal, the ninjas throwing smoke balls to make themselves disappear, the "I've seen this a million times" action-movie plot. There's little in the way of good martial arts either... and stupid sprinkled throughout. I mean, why would the master ninja kill one of his dedicated, skilled trainees to prove his "badness". Just dumb.
Sums ItUp
Corny white ninja expert guy protecting pretty girl while beating all various bad guy type movie
Discussion Forum
Discuss American Ninja on our Movie forum!
News & Features