American Pimp
(2000)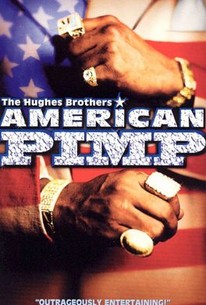 Movie Info
Albert and Allen Hughes, the writing and directing team of Menace II Society and Dead Presidents, turn their documentary eye to the world of street pimps in this 1999 Sundance Film Festival Documentary Competition entry. The black urban pimps interviewed here open up to reveal their world and their secrets to the camera in a film that is not about sex, but about power. We meet pimps named Filmore Slim, C-Note, K-Red, Gorgeous Dre, and Rosebudd as they discuss their business, including percentages, lifestyles, stealing "ho's," and the Player's Ball. These men exude charm and charisma, and boast rock-star status in their communities, with expensive clothes, cars, and bankrolls. The film works as an allegory to the film and music industries, where people are lured with glamour and money, only to be used as commodity and tossed out once they have passed their prime. The film also traces the history of the street pimp from the '20s to the present, with particular emphasis on the '70s pimp, whose lifestyle was exposed in the blaxploitation films of the '70s.
Critic Reviews for American Pimp
Audience Reviews for American Pimp
American Pimp (The Hughes Brothers, 1999) [originally posted 28Mar2001] It shouldn't surprise anyone that stereotypes are wrong, and that the truth is always far more complex than many would have us believe. Allen and Albert Hughes, disaffected with the red tape and mechanics of Hollywood after their first two fantastic films (Menace II Society and Dead Presidents), set out to make an independent documentary that shed a little more light on the pimp than the stereotypical evil man in a thousand-dollar suit injecting his stable of whores with heroin every few hours to keep them pliant. They do a credible job, for the most part. The Hughes Brothers themselves are never part of the film, except for a chuckle here or a sotto voce question there, preferring to let the pimps, and a prostitute here and there, tell the stories themselves. It becomes quickly obvious that both pimps and prostitutes are sharp, interesting characters. They belie some of the stereotypes, while reinforcing others. But most important, they come off as human. Ultimately, the film runs ten to fifteen minutes too long, but it's well-enough put together that the error is forgivable. A viewing of this might make the average American rethink his views on the sex industry in America today. ***
Robert Beveridge
Interesting, but might glamorize pimping just a bit too much. I feel this could have delved deeper into the business and really gone to some dark and fascinating places, but it stays pretty surface and mainly focuses on interviews instead of letting us watch them in work.
Paul Davis
½
This is a really funny and informative sort of documentary.
Jennifer Xu
Super Reviewer
American Pimp Quotes
There are no approved quotes yet for this movie.
Discussion Forum
Discuss American Pimp on our Movie forum!