America's Heart and Soul
(2004)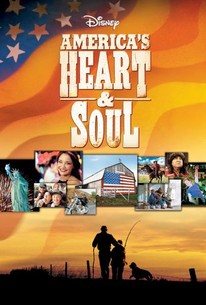 America's Heart and Soul Photos
Movie Info
Directed by filmmaker Louis Schwartzberg, America's Heart and Soul traverses across thousands of miles of American soil in an effort to showcase not just the beauty of the land, but the very soul of the United States -- its people. Exploring groups from American Indians to generation-spanning farming families, Schwartzberg endeavors to capture the stories of an extremely diverse population in hopes of displaying their common American dreams and values. Billed as a celebration of the country as told by its people, the documentary also includes the stories of several steel workers, car-show attendees, religious figures, and over 20 other unique individuals.
Rating:
PG (for mild thematic elements)
Genre:
,
Directed By:
In Theaters:
On DVD:
Runtime:
Studio:
Cast
Critic Reviews for America's Heart and Soul
Audience Reviews for America's Heart and Soul
[b]America is F'n Great![/b] In 2004 [i]America's Heart and Soul[/i] was supposed to be the antithesis to Michael Moore's [i]Farenheit 9/11[/i]. The problem was the film ended up being critically trashed and then nobody bothered to see it. (It made a paltry $300 thousand next to the record breaking [i]9/11's[/i] $119 million.) Before it was released, I remember being intrigued by the trailer for it, I thought it looked like a film at least worth seeing. But after it came out without a whimper I forgot about it. When looking for documentaries to watch for this column I stuck it in my Netflix list with little thought. While putting it in my DVD player, I had the feint memories of the trailer playing in my mind, remember that it was something that I wanted to see at one point. What hit me immediately was how gorgeous the film was. I'm a sucker for beautiful photography and time lapse. Two things that [i]America's Heart and Soul[/i] filmmaker Louis Schwartzberg obviously excels at. So I got into the film immediately. Another thing I'm a guillible for is oddball, eccentric, and charismatic folks. The first of many people Louis decides to point his camera at is Roudy Roudebush, a real life cowboy from Telluride, Colorado. He's a man with a real lust for life and that shines through immediately. As soon as I started thinking, "oh cool, we're going to ride with this dude for a while", the film quickly shifts gears to a Cajun musician from Louisiana. He's also a fairly interesting guy, but I'm already missing Roudy. Next thing I know we're onto an old woman gospel singer, who's praising Jesus for how great life in America is... and suddenly I know what the critics were talking about. [img]http://hollywood-elsewhere.com/truth/images/roudy.jpg[/img] Roudy Roudebush in all of America's majesticness. Every five minutes or so we're introduced to another character in the American quilt-work of society. Most of them are worth spending some time with: a NYC bike messenger with a death wish, an explosives artist from Colorado, cliff dancers from California, an acrobatic flyer from Florida and on and on. The only subject that the average viewer would know anything about is Ben Cohen of Ben and Jerry's ice cream, but we barely spend even two minutes with him. And that's one of the film's big problems, all these people deserve more. Each is worthy of much more digging, the films barely scratches the surface of who these people are before moving on to the next. And the underlying theme of it all is, "damn, ain't the U.S. of A. a fantastic place to live!" The film is full of quotes like: "Cherish your freedom." "Finding your passion in life is very important." "I've been broke many times in my life, but I've never been poor." For this cynic it was getting to be too much. There is only one moment in the entire film, where it looks like America isn't the absolute perfection of society. We meet some West Virginian steel workers who are losing their jobs overseas, but even that turns into the American dream, these guys buy the steel plant and make it a wonderful place to work, where their insurance saves pretty little girls from dying. After a while, even the superb photography started to grate me the wrong way. Instead of simply being pretty, it started to feel like the beauty of our country was being shoved down my throat. There are no blemishes, everything is perfect, country or city, rich or poor. When we all damn well know it isn't. That sort of idea doesn't fly these days. Even the Cleavers may have found this film too syrupy. [img]http://hollywood-elsewhere.com/truth/images/louis.jpg[/img] Filmmaker Louis Schwarzberg The thing is though, I could tell that this isn't what filmmaker Louis Schwartzberg, was trying to portray when he set out to make the film. I think he simply wanted to make a film about how good life can get, that there are nice things in the world. He was trying to capture the elusive American dream in all its aspects. It's not a bad idea for a film. But somewhere along the way, he swallowed the Kool-Aid and sent the film awry. The Republican Party snuck into the editing room, beat him over the head, and cut the film based on how they thought America should be portrayed. Near the end of the film, they even throw in a happy montage to Smash Mouth's [i]All Star[/i]. A trend I thought was over. Can we please put a stop to the madness! From time to time, the rosy filter would drop, a real moment would cheat through and it would give me chills. If the entire film managed to be honest like this [i]America's Heart and Soul[/i] might have been an instant classic. However, for the majority of the film, we're looking at America as it only exists in Chevy commercials.
Ross Williams
9/11 - I have no use for propaganda. The less objective something is, the less credible. Moore and Hannity say they are not objective, which is not only disturbing, but a waste of my time. I want the truth, not an entertaining polemic. Anchorman - Sky Rockets in Flight!...What else was funny? I, Robot - For a Will Smith action movie, not only was it entertaining, but is was smart as well. Heart and Soul - Celebrating America through very intersting and very different people this county houses. Spider-Man 2 - I was not to crazy about this one, but it better than the first.
Shaun R
A movie about the real America the liberal media does not want you to see including Disney. Check the showing times, its only showing in limited areas with limited times. I've never seen a limited distribution like this with any Disney flick.
rob fire
Discussion Forum
Discuss America's Heart and Soul on our Movie forum!
News & Features