AmeriQua
(2012)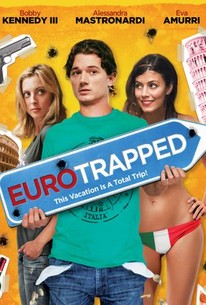 AUDIENCE SCORE
Critic Consensus: No consensus yet.
Movie Info
AmeriQua is the story of a lazy recent graduate, Charlie (Bobby Kennedy), whose rich parents cut him off with a $5000 check and an ultimatum to start a life of independence and responsibility. Instead, he buys a plane ticket to Italy, gets robbed upon arrival and winds up in Bologna in the care of his new friend Lele (Lele Gabellone), the self-proclaimed King of Bologna, who lives with a scraggly punkabbestia, Ballo (Gianlucca Bazzoli), and the insatiable prostitute frequenter, Il Pisa (Giuseppe Sanfelice). In Bologna, Lele teaches Chrlie the subtle strategies that the King knows so well, namely hitting on Italian women, throwing all-night parties and inciting general anarchy. Charlie takes to it like a pro and in the process meets the dangerously beautiful Valentina (Alessandra Mastronardi) and all-American Jessica (Eva Amurri). It may have been a simple story of cultural exchange had Charlie not accidentally pissed off two vicious mafia bosses, Don Ferracane (Giancarlo Giannini) and Don Farina (Ernesto Mahieux) in his wanderings. What chance does a timid American kid, who doesn't speak Italian and hangs out with sloppy Italian party hounds, have against the dark forces of organized crime in Italy?
Rating:
R
Genre:
Directed By:
Written By:
On DVD:
Runtime:
Studio:
Critic Reviews for AmeriQua
There are no critic reviews yet for AmeriQua. Keep checking Rotten Tomatoes for updates!
Audience Reviews for AmeriQua
★★ (out of four) This little movie landed with a thud in theaters, and had its name changed once it hit video to the no less awkward "Eurotrapped". The plot is okay, but nothing special. The most interesting aspect is that it stars Bobby Kennedy III in the lead. He, of course, is the grandson of Robert F. Kennedy. The good news is that Kennedy is actually not too bad of an actor. He is likeable and seems genuine. In the right role he might have an opportunity to shine. Kennedy plays Charlie, the lazy son of a wealthy New York City couple. Since he is not actively looking for a job after college graduation, his Dad (Alec Baldwin) and Mom (Catherine Mary Stewart) decide to cut him off. They hand him $5,000 and set him loose in the world. Instead of being responsible, he grabs the money and takes a trip to Italy. There he travels around meeting new people and somehow gets involved the stereotypical mafia. There are some okay moments but not enough to leave much of an impression. [IMG]http://img.photobucket.com/albums/v48/Zeppo1/Eurotrapped_zps0e6608d6.jpg[/IMG]
Steve Smith
AmeriQua Quotes
There are no approved quotes yet for this movie.