Amityville 1992: It's About Time
(1992)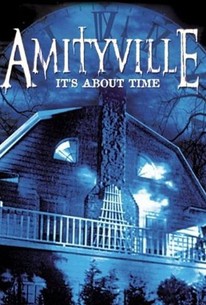 Amityville 1992: It's About Time Videos
Amityville 1992: It's About Time Photos
Movie Info
In this the sixth of the Amityville Horror series, a mantel clock purchased and brought into the home of an unsuspecting family begins to envelop the house in a avalanche of terror.
Critic Reviews for Amityville 1992: It's About Time
All Critics (7) | Fresh (1) | Rotten (6)
Never trust a movie that has the year it was made incorperated into it's name

Audience Reviews for Amityville 1992: It's About Time
½
Surprisingly an improvement over the other amityville sequels, but this still has nothing to do with the murders and the haunting. It's just insane how they can ignore such a story and continue with nonsense.
Randy Pronk
Painful exercise in delivering supernatural haunted house chills; this entry focuses on an evil clock and really doesn't satisfy. In the end, what can you expect from a series that lacks effective creative integrity in the sense that they are unable to deliver a good entry in a series that never should have taken place. Don't look for anything to catch your eye with this one, as it will bore you like every other entry that has been made since the original feature. This is a poorly constructed affair that doesn't satisfy genre fans looking for effective chills or a good haunted house picture that can actually make you sleepless for a few nights on end. This one doesn't have anything interesting going on on-screen, and the cast is pretty bad aided by bad directing and poorly constructed moments that are supposed to induce chills. This is a bad film like all the others and it is clear that the filmmakers clearly didn't care about the end result as long as they made money off their poorly executed haunted house film. If you've seen the previous entries in the franchise, expect to be let down with this one as it offers nothing new to the franchise, it's all the same old uninspired garbage that doesn't have any redeeming factors whatsoever. Creativity is at its lowest form, and sequels would still pop up as the studio seeks to deliver cheap after cheap sequel to try and cash in on the original. Again, this one fails to thrill and disappoints big time. Amityville: It's About Time is an awful horror film that is a pain to watch and really doesn't offer genre fans anything refreshing, new or exciting aside from sheer disappointment.
½
For some inexplicable reason, I enjoyed this film much more than its two predecessors in the series. Stupid but enjoyable, I found the film to be the most entertaining since the second film, which isn't really saying much. Its attempt at a twist ending is a bit cliched, but I found it amusing nonetheless. Your expectations can't be too high when the film has the year of its release as part of the title.
Al Miller
Amityville 1992: It's About Time Quotes
There are no approved quotes yet for this movie.
Discussion Forum
Discuss Amityville 1992: It's About Time on our Movie forum!