The Amityville Curse
(1990)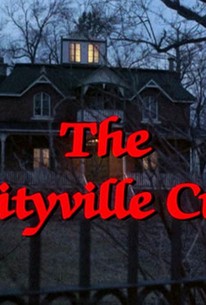 Movie Info
This fifth installment in the tiresome horror series is so far removed from its creatively depleted source material that one wonders why the filmmakers bothered to use the "Amityville" reference in the title. In fact, there is some question as to whether the haunted house featured here is even supposed to be the same accursed residence as established in the four prior chapters. For openers, the house doesn't look remotely similar; in addition, the scenes establishing its bloody history -- involving the murder of the house's former owner, a local priest -- seem to have eschewed any continuity with the earlier films. Disassociating this cheap production from others in the franchise doesn't help much, as the story is completely incomprehensible, dusting off the usual haunted-house cliches to little effect.
Critic Reviews for The Amityville Curse
All Critics (6) | Fresh (1) | Rotten (5)
Watching five excruciatingly unlikable people remodel an insufficiently haunted house.
just when you thought it was ok to go back to the haunted house...
July 8, 2005 | Rating: 0/4
Eye-gougingly scary. If you don't want nightmares, don't watch this film.
August 2, 2002 | Rating: 4/5
Audience Reviews for The Amityville Curse
Yet another pointless and poorly constructed entry follows the first four films in this painful franchise. This is a poorly made film that doesn't expand the story in terms of offering something new for viewers. The acting is bad, the story is awful and the directing is unfocused. The biggest problems with these films are that they recycle so many ideas in order to create something entertaining, and it fails. That's the case with this entry as it is dull and boring and really doesn't have anything going for it in terms of an effective horror tale. This film is stupid and is underdeveloped. This is another train wreck of a film that is painful to watch and is among the worst of the series. It just goes to show that the films produced in this series are poorly done and there is no care taken to try and make something entertaining. This is a sequel that was rushed and it shows on-screen. There is nothing here to enjoy, only a mess from start to finish and one that genre fans will surely not enjoy. Don't go expecting anything worthwhile because you won't find it here. These sequels are bad, and there is not one ounce of quality material in the script to make this one standout. With a poor cast and a poor script, The Amityville Curse was another poor attempt in stretching out the ideas of this tiresome series into new territory. However it failed because the screenwriters have no talent or understanding of what makes an entertaining horror film.
This has nothing to do with any of the other Amityville movies. Yes, it does take place in the town of Amityville, but a totally different house with a completely different history. I guess there was no copyright on using "Amityville" in any haunted house movie title. They had music which sounded vaguely like the Amityville Horror theme. A group of five adults move into a house on impulse when they are driving past it; there isn't even a "For Sale" sign or a Real Estate Agent around, which I found funny. The house is totally furnished, but needs all sorts of renovations to get it functional again. I found it strange that they were walking around with candles, rather than using flashlights or getting the lights fixed. Some small creepy things happen, but they don't think much of it and decide to stay; I would've been gone in an instant! There's a hidden bunch of secrets on the property; I'm surprised the locals didn't tell them sooner; we get the backstory over one hour into the movie. The plot is a bit confusing, with a hung boy and his dog in the yard, and a priest shot in his confessional booth at the church around the corner 12 years ago. There are no devils or demons - or buried Indians for that matter - this is simply a ghostly affair. One of the women in the house has psychic visions and writes them in her journal; she has a few freakout moments, which were funny. The script is silly and has the characters doing things which don't make much sense. It's not directed or edited in a scary fashion; I found everything somewhat funny. They could've taken the same story, and made it quite freaky; if the actors and direction was inclined. The only scene which was slightly creepy was when the woman went for a stroll down in the basement and saw claws and a face coming out of the wood of the confessional booth. The spider in the bedroom, the goop in the bathtub, and the dog attack were all laugh-out moments. Most of the deaths are goreless and occur offscreen when they do happen. The end battle with the "monster" is pretty good, involving acid and carpentry tools; decent gore here. This film was made in Montreal, and shown direct-to-television, and it really shows. Watch it for the funny story and acting; you probably won't get scared.
Lafe Fredbjornson
Super Reviewer
The Amityville Curse Quotes
There are no approved quotes yet for this movie.