Among Ravens
(2014)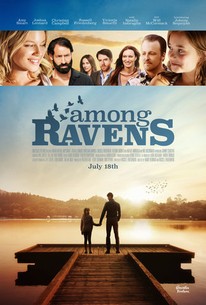 Movie Info
Inspired by real events, Among Ravens follows the intertwined lives of a group of friends and family as seen through the eyes of a 10-year old girl, Joey (Sequoyah). When the group gathers for their annual 4th of July holiday weekend in Idaho, her mom (Smart), step-father (Leonard) and father (Friedenberg), along with a combustible mix of friends and entanglements, secrets begin to unravel and have an impact on young Joey. (C) Gravitas Ventures
Critic Reviews for Among Ravens
Audience Reviews for Among Ravens
½
I think this is the first time that I agree more with the critics than I do with the audience reviews.
Troy Kleasner
Really enjoyed this movie. Watched it with my Mom who was not aware of the "types in the film" but becoming more so via the Internet and TV. She and I were both intrigued on how the story unfolded and the breakdown of each character and felt that it was not commercially fed or dumb down, like most Hollywood films. Though the film maintained an indie quality to it, it is not pretentious and can be enjoyed by a general audience, which is unusual these days. Johnny was an amazing character/actress and awesome all around. She really brought out the story, with her mature ways, but maintained a special innocence throughout the film. A very sweet and a funny film with a twist of reality.
Laura Wilson
½
I enjoyed this film. A fresh twist on the "reunion of friends" sub genre. A quirky group of friends get together for the weekend, narrated through the wisdom of a young girl, Joey. So much could be learned from the honest insight of a child, if only these characters weren't so caught up in their crazy and crumbling lives. I loved Chad, the eccentric and awkward nature photographer. The bond he forms with Joey drives the story as they watch the tragic comedy unfold. The metaphors of ravens, cinematography and music score strike the perfect mood. Standout performances by Will McCormack (Chad) and Johnny Sequoyah (Joey). Also notable, Joshua Leonard and the always lovely, Amy Smart.
John Xeno
Among Ravens Quotes
There are no approved quotes yet for this movie.
Discussion Forum
Discuss Among Ravens on our Movie forum!