Amongst Friends
(1993)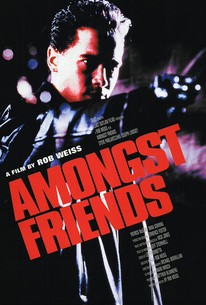 Movie Info
This film is set in an affluent Long Island neighborhood, the home of boyhood chums Patrick McGaw, Steve Partavecchio, and Joseph Lindsay. With too much time on their hands, the kids turn to crime for "kicks." Events snowball into a climactic life-or-death drug deal, which threatens to end in disaster.
Critic Reviews for Amongst Friends
Audience Reviews for Amongst Friends
½
This is a vapid, shallow little film with a story ripe with potential, but squandered due to poorly developed characters and a terminally flawed script. Athough the making of it, covered in John Pierson's book 'Spike Mike Slackers & Dykes' is nothing less than captivating.
Nick Murphy
½
A merciless whipping of an experience, this movie chewed my balls and then spit them in my face. Fuckin' review assignments for Chud.com.
Asim Dossani