Amore
(1948)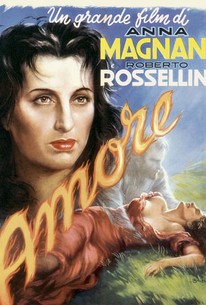 AUDIENCE SCORE
Critic Consensus: No consensus yet.
Movie Info
The scandal surrounding the Robert Rossellini/Ingrid Bergman romance prompted American film distributors to put as many of Rossellini's earlier Italian films into stateside theaters as possible. Filmed in 1948 as Amore, Woman is the story of a virginal miss named Paoli (Elli Parvo) who is seduced and abandoned in The Big City. Hoping to find redemption in her home town, Paoli discovers that her male neighbors know about her fall from grace -- and now they want some of the action. The story ends on a note of tragic cynicism. Woman was later bundled together with two other films, The Miracle and A Day in the Country, and released as the omnibus feature Ways of Love.
Cast
Audience Reviews for Amore
½
The idea of a collaboration between Roberto Rossellini, Jean Cocteau and Federico Fellini should make any film scholar drool. Add the inimitable fire of Anna Magnani -- she's the whole show here -- and who can resist? "L'Amore" is not easy to watch, but it's over within 80 minutes. The film is divided into two separate sections and even rolls extra credits in the middle. The first part (scripted by Cocteau) has just one actor: Magnani, portraying a distraught woman caged in her apartment while anticipating a call from her estranged husband. He has left their five-year relationship, and she would forgive everything if he would simply drop his new lover and return. But he has moved on, even if he's a kind man who doesn't want to hurt her. Her anguish on the phone is searing, but Magnani's flamboyant performance somewhat wears out its welcome as the claustrophobic minutes pass. The second part (scripted by Fellini, well before his first directed feature) was quite controversial in its day. Slightly longer and much broader in setting and cast, this segment functions as a perverse retelling of the Virgin Mary story. Magnani is an unbalanced homeless woman who mystically encounters St. Joseph (the young, bearded Fellini, who never says a word) on a lonely hill and is impregnated. When she tells others, she is ridiculed. One yearns to find that she's a righteous believer whose claim will be vindicated, but the likely truth is that "St. Joseph" was simply a vagrant wanderer who subdued her with wine and raped her. However, the tale remains somewhat ambiguous -- presumably, the reason for all the protests.
Eric Broome
Super Reviewer
½
La Magnani! This is actually a two part film, directed by Roberto Rossellini, as a tribute to Magnani's talent. 'The Human Voice' is based on a story by Jean Cocteau. To me, this is a cinematic milestone in that it takes place in one room with one person on the telephone. I don't recall an earlier film in such a setting. Also, every person has been a participant on such a call before, the end of the affair ~ Magnani's performance doesn't require the caller's voice to even be heard. The next short film is based on a treatment by Fellini, 'The Miracle.' It's delightful seeing a young, voiceless Fellini assuming the role of Saint Joseph. Magnani magestically plays a poor, dim-witted woman ~ a memorable and passionate performance.
Stefanie C
Super Reviewer
Amore Quotes
There are no approved quotes yet for this movie.