Combats de femme (Un amour de femme, A Woman's Love)
(2004)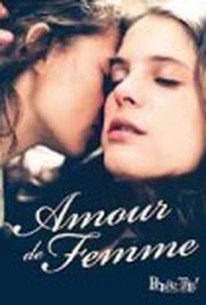 AUDIENCE SCORE
Critic Consensus: No consensus yet.
Movie Info
A woman caught in a comfortable but lifeless marriage gets a wake-up call that threatens to dismantle her entire existence in this erotic drama starring Raffaela Anderson and Anthony Delon. A successful osteopath living in Paris, Jeanne feels something is missing from her life. While attending a party with her husband, Jeanne makes the acquaintance of a professional dancer named Marie. As Jeanne and Marie form a close-knit bond and Jeanne begins taking private dance lessons from Marie, she soon begins to get back in touch with her body and realize her inner desires. When Marie reveals that she is sexually attracted to Jeanne, Jeanne quickly realizes that she too is attracted to Marie, and is slowly falling in love with her. When Jeanne confides her secret in a close friend, the shock that her revelation arouses spills over into her husbands' suspicions that his wife is having an affair, overwhelming the woman whose life has suddenly taken a dramatic and unexpected turn. ~ Jason Buchanan, Rovi
Rating:
NR
Genre:
,
Directed By:
In Theaters:
On DVD:
Runtime:
Critic Reviews for Combats de femme (Un amour de femme, A Woman's Love)
There are no critic reviews yet for Combats de femme (Un amour de femme, A Woman's Love). Keep checking Rotten Tomatoes for updates!
Audience Reviews for Combats de femme (Un amour de femme, A Woman's Love)
I don't wanna say this and I usually don't, but this was crap. I don't think I cared a bit for the characters except the sex scenes maybe.
Annie Chen
[img]http://images.rottentomatoes.com/images/movie/coverv/48/230248.jpg[/img]Jeanne is a successful osteopath whose apparently happy home life includes a 7-year old son named Louis and a peaceful marriage, but she feels that something is missing; her life has become routine, and at 35 she feels her youth slipping away. Then she meets the much younger Marie at a disco party, and after enrolling in her dance class, Jeanne feels an awakened sensuality and vitality, along with another, unfamiliar sentiment: passion for another woman. The two begin an affair, and while others disapprove of their love, Marie's unconventionality and wildness allows her to freely discount the opinions of others; Jeanne, however, must decide between her newfound pleasure and the family life that has supported her for so long. [b]Well done romance drama. A lot is said without words just from the glances the 2 lead charactors Jeanne & Marie give one another. The love scene is very sensual without being overly explicit or pornographic. Good drama depicting this married woman's struggle to come to terms with her sexuality & relationship with another woman. Will she stay married and live a "normal" life, or will she follow her heart? Watch the movie to find out. [/b] [img]http://images.rottentomatoes.com/images/movie/coverv/63/201163.jpg[/img]A traditional and wealthy family comes face-to-face with their daughter's rebellious lifestyle in this tale of love, honesty, and the holidays. In TREADING WATER, Casey has turned away from her family to work as a longshorewoman and live with her social worker girlfriend Alex with whom she is deeply in love. [b]I rented this not realizing it was one I saw several years ago. Just goes to show how forgettable this film is. Low budget fare that plays a lot like a soap opera. A lesbian couple who have it better than a lot of people in their situation get whiney about Casey's lack of acceptance from her parents about their relationship. Didn't find the story or any of the charactors that interesting or appealing.[/b]
Bobbie Murphy
[font=Garamond][size=3]So I'm going to try this journal thing one more time. I joined Netflix yesyerday so at least I'll have a steady stream of movies to watch. The most bizarre DVD I've seen lately is a little number called "Pupperts Who Kill". This is a Canadian cable show with slight ties to the venerable "Red Green Show". It's about four sicko puppets, a teddy bear who's a slut, a Cabbage Patch type doll who can snap at any moment and start picking off people from an apartment window with a telescopic rifle, a ventriloquist's dummy whose ventriloquists keep meeting with fatal accidents and a dog who used to work on a kiddie show and has become a complete thug. They all live in a halfway house with their counselor and they are every bit the perverted little desparadoes they sound like.[/size][/font] [font=Garamond][size=3] This show points out something I've noticed about Canadian humor. All the Canadian shows I've seen, "Puppets", "Red Green", "Kids In The Hall", "SCTV", tend to be slightly more relaxed than their closest American counterparts like "The Simpsons" and "South Park". It's a more mature kind of raunch if that makes sense. The American shows always seem to pride themselves on being rebellious and "edgy" and throwing out a lot of pop culture references. You don't see that as much in the Canadian shows. They seem like they are more relaxed and taking their insanity in stride. The Kids In The Hall act like they cross-dress all the time. The Red Green crew is a bunch of lazy malcontents and petty crooks. The puppets don't even try to be cocky and hip. They're just unrepentantly evil little bastards. [/size][/font] [font=Garamond][size=3][/size][/font] [font=Garamond][size=3]I've also been going after CDs like there's no tomorrow, specializing in really underground "rock" people: No Neck Blues Band, Mum, Flying Saucer Attack, Dead Can Dance, Fire Engines, Lightning Bolt, The Fall, Tara Jane O'Neil, Toby Driver. I'm really turning into a slut about this stuff (the only thing I can be a slut about these days). I plan on doing a Brazil - France parley of Gal Costa and Jane Birkin CDs as soon as I finish this.[/size][/font]
Jerome Wilson
Combats de femme (Un amour de femme, A Woman's Love) Quotes
There are no approved quotes yet for this movie.
Discussion Forum
Discuss Combats de femme (Un amour de femme, A Woman's Love) on our Movie forum!