Amusement
(2008)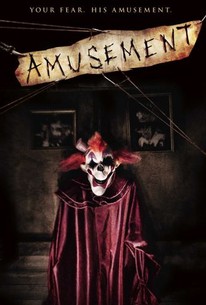 AUDIENCE SCORE
Critic Consensus: No consensus yet.
Movie Info
When three females are brought together as part of a malevolent plan, their worst fears soon become a terrifying reality in a dark thriller from writer Jake Wade Wall and director John Simpson. A traumatized woman being questioned by a cop and a psychiatrist realizes that a clown, a hotel, and a convoy could hold the secret of stopping a relentless serial killer before he strikes again. As children they were best friends; as adults Tabitha, Shelby, and Lisa have wandered separate life paths. Now, inside a chilly prison chamber, three women and a group of other potential victims must fight for their lives, or lie down and die for another's amusement.
Critic Reviews for Amusement
All Critics (3) | Fresh (1) | Rotten (2) | DVD (5)
a cat-and-mouse game, without any of the strap-to-a-chair-and-torture shock attempts
Amusement might end up being the most ironic title of the year, because there's absolutely nothing amusing about it.
...the segment with the dolls has its moments. Give the movie an extra point for that.
Audience Reviews for Amusement
½
Gets off to a good start, but loses it quickly. The star and a half is for the clown scene - that was genuinely creepy. The rest of the film I had trouble following (looking at some spoilers, I suspect because it doesn't actually make sense and has massive plot holes). It's a shame because the movie looks pretty good for a b grade horror and the cast is pretty decent.
Nicki Marie
Super Reviewer
Painful horror yarn, Amusement is a misfire in the genre. I felt that the film was stupid and poorly constructed. Amusement fails to thrill and becomes a pointless film that tries too hard at delivering chills, which ultimately doesn't work. The cast here is simply terrible, and every actor is forgettable in their parts. This film is horrible, and for me anyways was one of the worst horror flicks that I had the misfortune to see in recent memory. Director John Simpson clearly has no clue how to develop a good script, and its limitations show on-screen. This film might have worked, but its script is poorly written, and there was no real effort put into this film. This film was horrible, a total waste of time. If you're looking for an effective horror film, this film isn't it. This film doesn't stand out, and ends up being a painful viewing for the viewer. Amusement, unlike its title would suggest isn't amusing. This film is boring and poorly constructed. I hated the film, felt it could have been much better than this, and this was a missed opportunity to create something good. This film doesn't deliver good chills. If only the filmmakers would have given this film more attention, a chance for the film to be better than this. Amusement is an awful film, one that misses the mark, and there's really nothing here to really enjoy or to thrill the viewer. You're time would better spent watching a better horror film. This is a poorly constructed film that really doesn't cut it.
Teen Horror with nothing new to offer. Tensity levels are at a low, gore factor, non existent - a complete waste of time.
Lady D'arbanville
Super Reviewer
Amusement Quotes
There are no approved quotes yet for this movie.