An Affair of the Heart
(2012)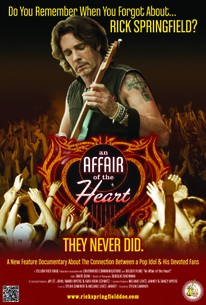 An Affair of the Heart Videos
An Affair of the Heart Photos
Movie Info
Some may find the rabid devotion of Rick Springfield's fans perplexing, but if his 17 Top 40 hits, including "Jessie's Girl", or his run on General Hospital as Dr. Noah Drake didn't convince you, watching him blast out live performances with straight-on charisma and spontaneously dropping in on fans most certainly will. Somewhere in between the introvert plagued with lifelong depression and the 60-something extrovert who still performs 80 to 100 high energy concerts a year, lies the real Rick Springfield. A fascinating look at a singular, multi-generational celebrity culture, An Affair of the Heart is a soulful examination of contrasting individual connections revealed through common universal threads of humanity. -- (C) Official Site
Critic Reviews for An Affair of the Heart
Audience Reviews for An Affair of the Heart
Rick Springfield might be a joke to some, but not to the fans in this documentary. Director Sylvia Caminer is able to portray a rock icon that never really was, through the eyes of his fans. You get to know more about how big of a star Rick Springfield could have been if his fans had their way. Unfortunately, not all of the stories are as compelling as Caminer wants them to be, some are, but not all. And if you're not a huge fan of Springfield already, you probably won't be won over. However, you might have some fun.
Nathan Martin
Yea so I watched the Rick Springfield documentary. Damn what a crazy following. However, he is good to his fans.
Tracy Fortenberry
½
Okay, confession time. The music of Rick Springfield is not foreign to me. His incredibly popular hit "Jessie's Girl" was #1 on the Billboard 100 charts when I was 16 years old. I have two sisters who are slightly younger than me and they had the typical "Tiger Beat" magazine-style crush on the guy back then. They would play his records non-stop but they got over him. Which is exactly the opposite of the people (or rabid fans) presented in this documentary. My confession of being quite familiar with Rick Springfield must also include that even as my sisters swooned over him, I heard something within his music that I liked. That something is that Springfield can write an awesome pop tune. And while "Jessie's Girl" remains one of the finest Rock/Pop (or "Power Pop") songs to come out of the '80s, he wrote a lot of incredible catchy, guitar driven music. There's something about crunchy power chords and stick-in-your-head choruses that I've loved since I could afford an album collection. In fact, I think I own seven or eight of his albums from both the early '80s to his latest from 2012. Still, there's some scary behavior displayed by the hard-core fans seen in this "Rock"-umentary. There's no doubt that the music means something to them as they all give reasons, some rather touching, about their obsession. I mentioned my appreciation for his music as a way to set up my bewilderment about theirs. Everyone has had the experience of a song "bringing you back" or stirring up that feeling of nostalgia from within. These "Rick-sters" though, they take it to the next level. It's not unlike self-proclaimed super fans of other artists, whether they be musicians or movie stars. It's a dependency that's hard to understand, but it's not exclusive to Rick Springfield. Think "Star Wars" or Jimmy Buffett or Justin Bieber. It's all the same, regardless of age or gender. Another thing, Springfield touches on his struggles with depression, drugs, infidelity and other troubles that have plagued him. Here's a news flash...it's not unique. If these are attempts made to legitimize him through experiencing these struggles, it rings a little hollow. All the legitimacy in the world is on display when the documentary covers his performance at a heavy metal festival in Sweeden. Talk about a square peg in a round hole. But surprise! It appears that those metal-heads liked what he was doing. Look, I'm not beating up on him. It's just that most people have never and will never reach the levels of success that Springfield has, and it would have been decent to focus more on that and leave a little of the tear-jerking stuff on the cutting room floor.
Whit whitsbrain
An Affair of the Heart Quotes
There are no approved quotes yet for this movie.
Discussion Forum
Discuss An Affair of the Heart on our Movie forum!