An Alan Smithee Film: Burn, Hollywood, Burn
(1998)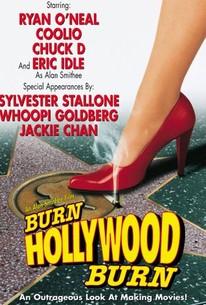 An Alan Smithee Film: Burn, Hollywood, Burn Photos
Movie Info
The existence of Alan Smithee is one of Hollywood's biggest non secrets. The director of over 30 feature films, he was born, or rather created, as a pseudonym in 1967 for the film Death of a Gunfighter (which was not released until 1969). He owes his creation to Hollywood directors (and sometimes actors and others involved in the creative process) who feel that a project has been wrongfully over-edited, or is just too embarrassingly bad to merit their names upon it. The Director's Guild carefully regulates the usage of the famous pseudonym. Some believe the name is an anagram of The Alias Men, while others contend that the name was chosen because of its uniqueness -- no one in the world could possibly be named Alan Smithee, right? Wrong. The premise of this filmed attempt, by screenwriter Joe Eszterhas, to rake Hollywood over the coals is that there really is a Smithee (Eric Idle) and he has just finished his latest epic actioner Trio, which stars Sylvester Stallone, Whoopi Goldberg and Jackie Chan (these three are the first of several star cameos occurring throughout). Unhappy that domineering, egomaniacal producer James Edmunds (Ryan O'Neal) -- who only hired Smithee because he thinks the director's an easily-manipulated sap -- has ruined Trio by over-editing it, Smithee goes to the Director's Guild to see about having his name removed from the credits. This proves problematic, for how can "Alan Smithee" be used if that is the director's real name. In desperation, the filmmaker kidnaps the negative of the $22-million movie and ultimately burns it. This act lands Smithee a spot in the Keith Moon Psychiatric Institute in England. It is from there that Smithee tells his version of the tale to investigators assigned to "autopsy" the film. His account is what comprises the bulk of the plot. One of the film's treats is to look for stars such as Billy Bob Thornton and Sandra Bernhard, and Hollywood honchos, notably Miramax big-wig Harvey Weinstein, in cameo roles. There are also numerous inside jokes for film buffs. Ironically, the film's real-life director Arthur Hiller had his name removed from An Alan Smithee Film because he didn't like the way in which Eszterhas recut the film. Eszterhas and Hiller swear that this was not a publicity stunt, but it does make one wonder.
People Who Like this movie also like
Critic Reviews for An Alan Smithee Film: Burn, Hollywood, Burn
Audience Reviews for An Alan Smithee Film: Burn, Hollywood, Burn
Lucas Martins
Super Reviewer
Fairly funny faux-doc about a fake movie. Also contains an insane amount of cameos.
Ken Stachnik
Super Reviewer
A so-so soundtrack can't keep "Burn, Hollywood, Burn" from being unmemorable, uneventful, repetative, thrown together and dull with unfunny jokes that range from obvious to offensive, leaving it to be an absolutely expendable concauction and an unbearbly boring, offensively unfunny and above all, disgustingly pretentious disaster of one at that.
Cameron Johnson
Super Reviewer
An Alan Smithee Film: Burn, Hollywood, Burn Quotes
There are no approved quotes yet for this movie.