An Inconsistent Truth
(2012)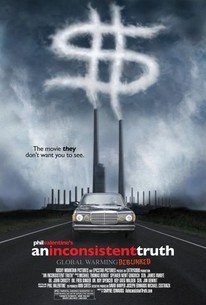 AUDIENCE SCORE
Critic Consensus: No consensus yet.
An Inconsistent Truth Photos
Movie Info
An Inconsistent Truth is one man's odyssey to find the truth about man-made global warming. As the title suggests, this is an answer to Al Gore's Oscar-winning documentary but it's much more than a simple rebuttal. We not only talk with leading scientific experts on the 'skeptic' side but we explore the entire culture of the global warming movement; often in a humorous and satirical way. The viewpoint of this film might not be the most popular position on the subject but it offers refreshing diversity. Diversity, after all, is not just found in different cultures or races or religions. True diversity is diversity of thought. -- (C) Rocky Mountain Pictures
Rating:
PG
Genre:
,
Directed By:
Written By:
In Theaters:
Box Office:
$52,756.00
Runtime:
Studio:
Critic Reviews for An Inconsistent Truth
All Critics (2) | Fresh (1) | Rotten (1)
Captivating, provocative and stylishly-edited. While An Inconvenient Truth invoked a lot of fear about global warming, here comes An Inconsistent Truth to calm you down and to open your eyes.

According to radio crock jock turned smug, wag the dog film narrator Phil Valentine, if pollution has you under the weather, so to speak, it's all a 'Branch AlGorian' figment of your imagination. Who knows, but let's toast to that. Pass the fossil fuel.

Audience Reviews for An Inconsistent Truth
This movie targets conservatives who want to believe that global warming is a lie in the first place, this just gives them a reason to indoctrinate their children at the movies. One of the interviews in the movie ( if you can call it that) was a angry redneck saying how great C02 were for the environment and people, however if thats the case why did the Apollo 13 have an air filter built just to protect astronauts from the good gas, and why do people commit suicide by C02. This is the type of basic logic Conservatives and this movie miss, you have to have very little brain power and an ability to believe any BS that comes your way to buy into this garbage. It's also a total misunderstanding of what Global warming, does and what it is. Conservatives believe global warming is when the earth gets hot and makes your feet warm, which is of course and argument made by fools. The fact is their ARE dwindling polar bear populations and there is a hole in the Ozone layer in the South pole, anyone who read a National geographic in the last THIRTY years knows these things. I am sorry I can't be nice about this, you have to be stupid to find this movie informative.
Sam Breazeale
½
Quite well done. Nice mix of facts, humor, and satire. We all know that Al Gore's "Inconvenient" truth received its awards based on political bias; this very well done rebuttal is every bit as good as Al Gore's documentary, but I sort of doubt the awards people will want any part of it. The movie brings out the "rest of the story" regarding Al Gore and the whole global warming issue -- MONEY. Money for Al Gore to be precise. Go see the movie, the money part is VERY enlightening.
Robert T
This is the worst sort of garbage. While 'diversity of thought' is consistently touted as some noble goal, we all seem to forget not every thought is of equal merit. The earth is round, not flat. We evolved over millenia; not created whole 6,000 years ago. And people who would claim man made global warming is a myth are in the same camp as geocentrists: clinging to falsehoods for the sake of ideology even though all of the evidence contradicts them.
Michael Bianchi
An Inconsistent Truth Quotes
| | |
| --- | --- |
| Newt Gingrich: | I believe in cap and trade |
| Newt Gingrich: | I believe in cap and trade. |