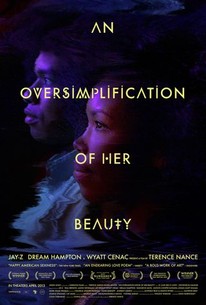 An Oversimplification of Her Beauty
2012, Comedy/Drama, 1h 24m
38 Reviews
500+ Ratings
Where to watch
Rent/buy
Rent/buy
Rate And Review
An Oversimplification of Her Beauty Photos
Movie Info
After a woman fails to show up for their date, an artist (Terence Nance) ponders the divide between romantic and platonic love, and why his past relationships have failed.
News & Interviews for An Oversimplification of Her Beauty
Audience Reviews for An Oversimplification of Her Beauty
An Oversimplification Of Her Beauty should perhaps have been retitled "An Overthinking of Her Everything". Developed over the course of six years by writer, director, and star Terence Nance, the aesthetically fluid film is an autobiographical examination of an idyllic relationship he always seems to be on the cusp of, but was never mature enough to handle. Ponderous and ever-present narration (told by The Wire's Reg E. Cathey) informs us that the film will be split into two chapters, and further divided into multiple chapters, embedded within is Nance's 2010 short film, How Would You Feel? If having the film's structure explained sounds like a good way to take the audience right out of the experience, then you'd be right. It shows a lack of trust in the audience and in the clarity of his own story, and that need to excruciatingly detail every aspect kills any personal insights Nance is trying to reflect. Once we get past the unnecessarily complicated intro, Nance's keenly observational exploration of urban relationships, told with seemingly random comic asides and insights, suggest a kinship to the early works of Spike Lee. The first chapter details what appears to be another day, as Nance tries to arrange an evening engagement with the girl of his dreams, Namik Winter, but finding it difficult to do so for one reason or another. The loopy time structure repeatedly folds in on itself, tediously presenting the same scene with new information. Nance has a lot to say about himself, but struggles to get right down to it. When he finally does, it comes out in floods and never stops. An exhausting flow of self-examination is thankfully broken up by truly inventive visuals as Nance switches up the medium at a whim, combining hand drawn animation, claymation, and gritty archival footage. Unquestionably this is one of the most original films of the year, but as Nance continually switches gears and adds more artistic flourishes, he overwhelms us with information in an attempt to make his story unique. Nance bravely presents a "warts and all" version of himself, an immature Bohemian manchild who both pushes the women who love him away, and pines for the ones who show the least interest. Namik gets the better end of the deal as she's the vision of a strong, intelligent, diverse African-American woman. Switching into documentary mode with a heavy reliance on archival footage, we see Nance as he presents a version of the film to a private audience, all without Namik's permission. When he confronts her with it, she expresses displeasure at it the one-sided nature of the story, but she doesn't seem too upset at having her life put on display. In fact, she doesn't really seem to care as much as Nance tries to make it appear, perhaps to try and drum up some tension that is sorely lacking. An Oversimplification Of Her Beauty works as a beautiful visual patchwork quilt, and there's a lot to admire, but it probably would have worked better as a short subject than a feature film.
See Details