Anamorph
(2008)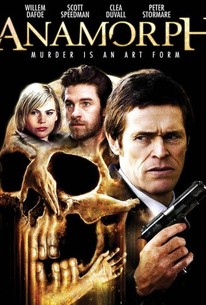 Movie Info
A haunted New York City detective must delve into his dark past in order to stop a serial killer whose highly artistic modus operandi seems uncannily similar to that of a madman who stalked the city streets five years prior. When reclusive detective Stan Aubray (Willem Dafoe) gunned down the man suspected of being the "Uncle Eddie" murderer, he thought his nightmare had come to an end. But now a new crop of victims has begun to turn up, each bearing the distinctive mark of the maniac whom everyone had presumed to be dead. Much like the unfortunate victims of "Uncle Eddie," the bodies in this latest batch have been carefully arranged in a manner that reflects the artistic style known as anamorphosis -- where hidden meanings can be revealed by viewing the crime scenes from different perspectives. Could this be the work of a copycat killer, or is it possible that Detective Aubray and his men killed the wrong man on that fateful day five years ago? All signs indicate that the latest killings were carried out with Detective Aubray specifically in mind, prompting him to reexamine the painful questions that he had struggled all these years to suppress. On one side, Detective Aubray faces the scrutiny of a bright young detective (Scott Speedman) who has his own unique ideas about the killings, and on the other, a disturbed young woman (Clea Duvall) who proves a dangerous link to Detective Aubray's mystery-shrouded past. Only by confronting the possibility that he fears most will Detective Aubray finally be able to overcome his own stifling sense of guilt and finally uncover the truth about the most gruesome crimes ever committed in New York City. ~ Jason Buchanan, Rovi
People Who Like this movie also like
Critic Reviews for Anamorph
Audience Reviews for Anamorph
½
I like a good murder mystery as much as the next person, but this one is hard to watch. I like it when movies let you draw your own conclusions, but in this movie, the leads are just so obscure, and the killer's motives only seems to be to make a confusing movie for the movie-going public out there. Saying that, I probably would watch it again, just to see if it makes sense the second time.
A thrilling movie about a troubled detective who struggles with his past, and the one case that still haunts him. The current case resembles the works of a serial killer that he has caught before, but this brings up further question of whether he in fact caught the actual person, or not. Great cast- Willem Dafoe, Scott Speedman, James Rebhorn, Peter Stormare, and Clea DuVall. Worth seeing!
The anamorphic art was nice, but the film itself was a bit too blurry and vague for my taste. Perhaps I should've been more alert to get more out of it.
vieras esine
Super Reviewer
Anamorph Quotes
There are no approved quotes yet for this movie.
Discussion Forum
Discuss Anamorph on our Movie forum!