Anatema
(2006)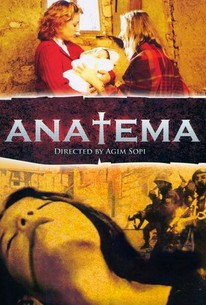 AUDIENCE SCORE
Critic Consensus: No consensus yet.
Movie Info
Expelled from her homeland and determined to seek out the daughter she was once forced to abandon, Kosovar journalist Emma Berisha sets out on a harrowing journey to reclaim her life in director Agim Sopi's accound of the horrific atrocities committed during the Balcan War. Emma was working with American journalists Laura and David Schwartz when was broke out in Kosovo. Somehow, in the midst of all the chaos, the three journalists just barely manage to escape the invading Serbian forces. After reporting to the local news agency, the trio learns that NATO forces are about to intervene and that all Americans are to be evacuated immediately. Though Laura and David implore Emma to flee with them, she refuses to leave her homeland until she has locates with her missing fiancé Edi. Immediately after Emma and Edi are reunited the Serbian forces begin a forced exodus of the Kosovar population, prompting Emma, Edi, and his family to flee for Pristine. Just as they began to think that they were safe in the remote village, invading Serbian forces throw Emma in with the other Kosovar women. There, the prisoners are gang raped before ultimately being expelled into Albania. According to the Red Cross, Edi is being detained in a Serbian prison in Nish. When the fighting has ceased, a pregnant Emma returns to Kosovo to find that it has been completely destroyed. Emma longs for that day that Edi will be released from prison, and soon gives birth to a baby girl she names Ana. But while Emma's family implores the new mother to get rid of the child, the new mother is determined to care for her baby the best that she can. Ultimately, Emma is forced to place Ana in an orphanage until she can properly care for the girl. It's during that time that David returns to Kosovo, and pays Emma for the work she conducted before the war. Now possessing the money needed to provide for her young daughter, Emma embarks on a desperate journey to locate Ana before the helpless girl falls prey to human traffickers.
Critic Reviews for Anatema
There are no critic reviews yet for Anatema. Keep checking Rotten Tomatoes for updates!
Audience Reviews for Anatema
Anatema (Agim Sopi, 2006) I wanted to like this movie so, so, so much more than I did. An Albanian director goes in for a hard-hitting look at the Serbia-Kosovo conflict through the eyes of a woman trying to reunite with a child she left at an orphanage soon after birth... how can you go wrong? Well, a myriad of ways, really, and Agim Sopi managed to hit pretty much every one of them in this confused mess of a movie. Plot: Ema Barisha (Lumnie Sopi in her screen debut) is an investigative journalist covering the Serb-Kosovo conflict, getting herself into places she wouldn't normally be able to by being the local liaison for a pair of American journalists/human rights workers (I could never quite tell which), David (Jacob's Ladder's Doug Barron) and Laura (The War Is Over's Blerta Syla) Schwartz. Ema's contact with the two armies is symbolized by the two men in her life-the happy-go-lucky Shpati (Warriors' Blerim Gjoci), an old school friend, and the vile, gluttonous Colonel Lilich (Black Flowers' Enver Petrovci), a Serb. (You can see where the subtlety of the political angle is really well-played here, I take it.) Ema, raped by a Serb solider, has a child out of wedlock and is of course shunned; with no means of getting the money needed to feed and clothe her baby during the upcoming winter, she takes the child to an orphanage. Fast-forward a bit, and David (Laura has dropped off the face of the earth, which shows you the thoughtfulness to be found in the scriptwriting) returns with Ema's payment for working with them; suddenly flush, she returns to the orphanage to get her child...and stumbles upon a white-slavery ring which she, David, and Shpati, now an army bigwig, must expose and destroy in order to save Ema's daughter. The first half of the movie is bad, but it's amateur-filmmaking bad; you might be willing to overlook the horrible acting and sometimes curious camera placement. But once the political gloves come off and the whole white-slavery-ring gig comes into play, it goes from bad to flat-out ridiculous, a piece of amateur propaganda that can't even manage to be successful at portraying bad guys you don't want to laugh at. Don't bother with this one. *
Robert Beveridge
½
Most of the scenes were the same. A group of militants invades the place where the main character was a hostage of guerilla groups. Very repetitive.
Bruno Lot
QUITE POSSIBLY THE WORST ACTED MOVIE OF ALL TIME. The extremely poor acting made it difficult to stop watching. It was hypnotic. I kept watching thinking that it could not get worse. But it did. And it did. And it did. To think that it even made it to DVD is bewildering. Disorganized throughout-laughable casting-elementary script. Message to whomever paid to have the film made: PLEASE DO NOT MAKE ANOTHER MOVIE. Instead, donate your money to a worthy charity!
Drahcir Molb
Anatema Quotes
There are no approved quotes yet for this movie.
Discussion Forum
Discuss Anatema on our Movie forum!