Anatomy 2
(2003)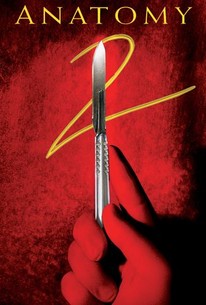 Movie Info
An ambitious, working-class medical graduate with dreams of becoming a research physician arrives in Berlin eager to begin his internship at a reputable clinic in director Stefan Ruzowitzky's sequel to his 2000 sleeper Anatomie. Motivated by his desire to provide patients with human warmth often lacking in medical treatment, and driven by his desire to discover a cure for the rare muscle disease that has crippled his brother Willi, Jo (Barnaby Metschurat) eagerly begins his internship as scheduled. When Jo is approached to perform an unauthorized operation on the daughter of a colleague, he initially refuses, only relenting after personally witnessing the graveness of her situation. His successful operation and detailed dissertation drawing the attention of Professor Mueller-LaRousse (Herbert Knaup), the charismatic Mueller-LaRousse subsequently invites Jo to join in weekly gatherings in his "research salon." As Jo becomes a member of Mueller-LaRousse's elite group of talented physicians, the stress of his internship is soon lifted, replaced by a compromising situation that may not only cost Jo his career, but his life as well.
Critic Reviews for Anatomy 2
Audience Reviews for Anatomy 2
½
haha... corny "run as fast as you can" scene where the main dude jumps over pipes and tables and makes fancy footwork as he's trying to get out of the hospital :D
Chuck Chuenpreecha
½
[font=Courier New]The original [i]Anatomy[/i] was a surprisingly entertaining film for me to watch. It was gruesome, disturbing and one hell of a good watch. [i]Anatomy 2[/i] is as far away from that film as can be. Where the first one succeeded in mixing horror with medical science, [i]Anatomy 2[/i] fails for trying to combine horror with a good intentions gone wrong. At the beginning of this film, it pretty much had me. The characters seemed interesting, and the setting was good. And it appeared that the movie was building up to something great. But after about 30 or 40 minutes, I soon realized this movie was just another typical sequel. The original film had a society of doctors cutting open people while they were still alive, and then making statues out of them. This was done surprisingly well. This film takes a different route. Now, a similar society is trying to prefect implants in people, turning them into something like the Bionic Man. After some deadly results, and buried secrets come forward, a new member soon realizes that maybe what he is doing is wrong, and tries to get out of the society. Pity the other members don't let people just leave when they feel like it, they rather would kill them. And soon the movie builds up to the inevitable battle among these "supermen." Toward the end of this film, I really didn't care what happened to any of these people. I kept hoping people who believed in the original societies way of cutting people alive would come into the picture, and a battle would explode between them. I will admit though that I got happy when Franka Potente appeared in the film. She is no longer the doctor she wanted to be, but rather a cop hunting down anyone who believes in this societies ways. Now that storyline, if actually used more, may have created a better picture. She really should have been in the movie more than she was. [/font]
Bryan Gomez
I went to rent [i]Swimming Pool[/i] at my local video store and was faced with a choice: the R-rated or unrated edition? Although I am partial to unrated versions of movies ([i]Requiem for a Dream, Happiness[/i]), it really depends on what the film was rated when it was released theatrically. If the artist intended to make an R film and then added a whole lot of sex and blood for the DVD release, well, that's exploitative, and I like to think of myself as a discerning viewer. So, I heard from some movie dork friends that [i]Swimming Pool[/i] was a dirty, sex-crazed French film, but still I didn't feel guilty about renting the unrated version, because the film was released unrated, and the last thing I want to is tamper with some director's artistic vision. However, I didn't find the film all that sexually explicit. It stars [b]Charlotte[/b] [b]Rampling[/b] as a British crime writer mired in late middle age and looking for a change of pace. She travels to France to stay in the empty home of her editor. She enjoys this personal reverie until the editor's daughter ([size=1][size=2][b]Ludivine Sagnier[/b][/size]) [/size][size=2]comes to stay at the house as well. The daughter is promiscuous and is constantly nude, which pushes the mental and social barriers of the totally repressed crime writer. They're unusual and tempestuous relationship as unlikely roommates is what provides most of the plot of the film.[/size] I found [i]Swimming Pool[/i] to be well-paced and suitable Hitchcockian; I truly had no idea where the film was going. It's billed as a thriller, but its a quieter film than this genre description alludes. I found it very similar in substance and tone to [b]Ingmar Bergman's[/b] [i]Persona[/i]. The relationship between the two women is central to the film and rife with psychological subtext. And Sagnier's bare chest was also central to the plot, obviously, since it was featured prominently in every other scene. I found myself contemplating this film for several hours after I finished watching it, which is some of the best praise I can give a film. I also watched [i]Anatomy 2[/i], which is the sequel to the monumentally shitty [i]Anatomy[/i], a Dutch pseudo-horror film released a few years ago. I didn't like the first film at all, but the second film was covered extensively by [b]Fangoria[/b], and I was hoping for some over-the-top gore or maybe just something a little MORE than the first film. The plot of [i]Anatomy 2[/i] is similar to the first film: a group of anti-Hippocratic doctors are bent on performing aggressive tests on humans in an attempt to achieve scientific advancement. In this film, the doctors have produced a new artificial muscle, and they peer-pressure all the members of their strange sect/Lodge/cult into volunteering for procedures to implant these new muscles. So all of these doctors operate on each other, filling each other's bodies with these fake muscles (which can be controlled from a remote location, via PC, thanks to a chip imbedded in each and every artificial muscle) and nobody seems in the slightest bit concerned about the experimental nature of the project or the fact that they are handing their bodily muscle control over to a group of elitist cult zealots. The plot was interesting, but the mentality behind some character actions was severely in question. Some good gore is featured in a shocking opening scene, but most of the medical gore featured throughout the rest of the film was poorly produced and unrealistic. [b]Franka Potente[/b] (who starred in the first film) makes an appearance as a police officer. And I find it funny, as I watch more Dutch films ([i]Run, Lola, Run, The Princess and the Warrior, Winter Sleepers[/i]), how many of the same actors pop up in one Dutch production after another. The Dutch branch of the Screen Actor's Guild must not haul in a lot in annual dues.
Ryan D.
Anatomy 2 Quotes
There are no approved quotes yet for this movie.
Discussion Forum
Discuss Anatomy 2 on our Movie forum!