Ancient Evil: Scream of the Mummy
(1999)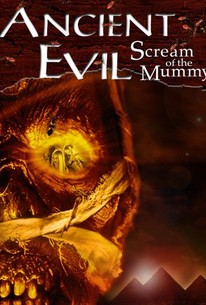 AUDIENCE SCORE
Critic Consensus: No consensus yet.
Movie Info
In this tale of terror, six archaeology students are on a dig when they unearth an ancient Aztec mummy. The young scholars' excitement at their discovery soon turns to alarm when the mummy suddenly comes to life -- and quickly displays a desire to kill anyone in its path. Ancient Evil was also released as Ancient Evil: Scream of the Mummy.
Audience Reviews for Ancient Evil: Scream of the Mummy
½
This mummy.. well I was eating & the close ups would make me wanna puke! Its mouth kind of reminded me of a Squid?s beak at one point. Its not an EGYPTIAN mummy its an Aztec one. The red head?s scream seemed to be dubbed in. The acting was so so. IN some scenes (or depending on the actor) it as irritating other times bearable. C- On a somewhat funny note. There?s a Michael Lutz that plays in this, & a Christopher Cullen!! (Lutz is the last name of the actor that plays Emmet & Cullen is the last name of the ?Vampires? in Twighlit.)
Kym (c my community profile) Salvatore
Super Reviewer
Some movies are soo bad, they're good. As most everyone here knows, I have a fondness for those. But, to steal from the legitmatly great Ghost World, some things are soo bad they surpass being good and go back to being bad. This, this is one of those things. The over-acting would have been tolerable if any of the characters were likable, they weren't. The mummy makeup would have been fine for a movie of such a limited (I greatly stress that word) budget, but he's really fat. Some scenes are soo dark I have no idea what is going on in them. This could have been awesome, but sadly, was just awesomely bad. As a drinking game, though, this could be amazing!
Bobby LePire
*cackles* Why must the best thing be the cover arts than the film? Cover arts are more frightening and cool, while the film is a cheap piece of turd. Go figure.
Holly F.
Ancient Evil: Scream of the Mummy Quotes
There are no approved quotes yet for this movie.
Discussion Forum
Discuss Ancient Evil: Scream of the Mummy on our Movie forum!