And Starring Pancho Villa as Himself
(2003)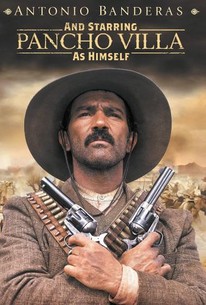 AUDIENCE SCORE
Critic Consensus: No consensus yet.
And Starring Pancho Villa as Himself Videos
And Starring Pancho Villa as Himself Photos
Movie Info
Antonio Banderas plays the title role in this cable-TV reenactment of a little-known chapter in the life of Mexican revolutionary Pancho Villa. The year is 1914: With Villa's war of rebellion against the Huerta forces going badly, he hits upon a brilliant method to finance his crusade. Actually, the idea is brought to him: American filmmakers D.W. Griffith (Colm Feore) and Harry Aiken (Jim Broadbent), then busy at work on The Birth of a Nation, approach Villa with a request that he sell them the movie rights to his revolution. Acting as Griffith and Aiken's representative, junior executive Frank Thayer (Eion Bailey) tags along with Villa as the rebel leader willingly "directs" the film of his campaign, even going so far as to delay mass executions until early morning so that the cameramen won't "lose the sun." Ultimately, Villa's dreams of cinematic glory are dashed when the American public, goaded on by certain special interest groups, turns against Pancho and his noble cause. By turns comic, tragic, gruesome, and ironic, And Starring Pancho Villa as Himself was first telecast by HBO on September 7, 2003.
Audience Reviews for And Starring Pancho Villa as Himself
½
The movie begins with a bunch of elitist white men bickering about how they are going to make and profit from a live-action film of Pancho Villa as himself and his revolutionary Mexican army. I try to stay away from films about films. I appreciate Hollywood film and its history but movies about movie making tends to lose my interest. As this film moves along, we begin to see more of who Pancho Villa was and what his passions and motives were. The story seemed to shed light on Villa's life that is otherwise ignored or forgotten in history. Banderas is the perfect Pancho Villa. No one could do it better. Unfortunately, the lead actor alongside Banderas was miscast in my opinion, (Eion Bailey). Alan Arkin's appearances are infrequent, which is good in my opinion because his humor and ruthless violence were tasteless and out of place. Its always nice to see Arken, even when he's collecting teeth from dead bodies, but his presence is a typical American filmmaker tactic to bring comic relief and bravo-machismo which relieved the film of some of its authenticity. A commendable effort for a TV movie, (HBO). Still, the romanticizing of war and killing in light of making a movie (within a movie) strikes a moral chord for me. Even when it seemed that Frank Thayer (Bailey) and his small film crew became invested in more than just making a movie, they were willing to risk the lives of Pancho's Villistas in order to "get a better picture". The whole idea behind this is absurd. I don't care about movie contract disputes in the middle of the Mexican Revolution. But this film tries to make you care. an execution speaks many words and tells a sad story. Many times in this picture people lose their life in the blink of an eye and it just serves as background noise, a prop, a distraction.
Marty Hagedorn
After nine years I finally had a chance to see this TV film starring Antonio Banderas as Pancho Villa. I was especially interested in this one because at the time of production was the most expensive 2-hour television/cable movie ever made, with a budget of over $30 million! The story follows the filming of The Life of General Villa (produced and shot in 1914 by the legendary D.W. Griffith ) and is told through Frank N. Thayer, a studio boss's nephew who gets a career boost when he is placed in charge of the project. At that time, Mexican revolutionary Pancho Villa (played by Antonio Banderas) finds himself without adequate funding to finance his war against the military government, and he decides to send emissaries to movie producers to convince them to pay to film his progress and the actual battles. Producer D.W. Griffith (Colm Feore) is immediately interested and convinces Mutual Film Studios boss Harry E. Aitkin to send a film crew. The original movie was the first feature length movie, introducing Americans to the true horrors of war that they had never personally seen. It's sad that the original film has been lost, but some unedited film reels of the battle, showing Pancho Villa and his army fighting Federal forces, as well as photographs and publicity stills taken from the original film survived. Even the actual contract that Pancho Villa signed with Frank N. Thayer and the Mutual Film Company on January 5, 1914 to film the Battle of Ojinaga still exists and is in a museum in Mexico City. This movie surprised me with the quality of the acting, screenplay, sound and camera work - pleasantly! It won a couple of awards, like2005 Art Directors Guild award for Excellence in Production Design and 2004 Emmy Award for "Outstanding Sound Editing for a Miniseries, Movie or a Special". If you like history and want to know more about this part of it, rent it and enjoy it!
½
This is an excellent historical drama with a fine cast led by Antonio Banderas, and Eion Bailey. Well-written and directed, with plenty of action and interesting sidelights into a very complex central figure. It might not be totally factual, but it clearly states that at the beginning of the film--"this film will show how things could have happened". I really enjoyed this movie. It was well done, and the acting was top notch.
Cynthia S.
Super Reviewer
And Starring Pancho Villa as Himself Quotes
There are no approved quotes yet for this movie.
Discussion Forum
Discuss And Starring Pancho Villa as Himself on our Movie forum!