Hollywood Television Theatre
(1970)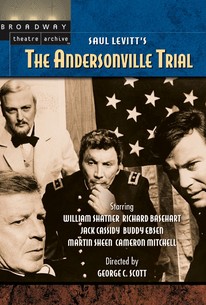 AUDIENCE SCORE
Critic Consensus: No consensus yet.
Hollywood Television Theatre Photos
Movie Info
This made-for-television drama, set just after the Civil War, chronicles the trial of those Confederate officers who ran the dreaded Andersonville prison where nearly 50,000 captured Union soldiers were sent. As the case unfolds, the film shows many horrific details of the ways prisoners were tortured and abused.
Rating:
PG
Genre:
, , , ,
Directed By:
Written By:
In Theaters:
On DVD:
Runtime:
Critic Reviews for Hollywood Television Theatre
There are no critic reviews yet for Hollywood Television Theatre. Keep checking Rotten Tomatoes for updates!
Audience Reviews for Hollywood Television Theatre
A good, if lengthy, script, pretty good direction (George C.Scott!), and a fiery cast deliver this indictment of not only war, but the people who practice it unthinkingly (an echo of WWll's "I was only vollowing orders!"). Surprising and not to be missed.
Kevin M. Williams
Super Reviewer
Stagebound but effective presentation. Many excellent actors give fine performances here. Shatner is good avoiding for the most part the hamminess that often mars his work. If you have an interest in courtroom dramas or Civil War history this should be of interest.
½
The aftermath of the American Civil War produced all kinds of injustices, most of which your average American couldn't name on a bet. How many people know that four people were hanged and four more imprisoned regarding the assassination of Abraham Lincoln, for example? How many know of the conspiracy involving that in the first place? How many people know of the one criminal trial, albeit a military tribunal, to result from alleged war crimes? There was a general amnesty following the war. Confederate soldiers and politicians were not to be tried for treason. However, one man of all the Confederacy was arrested, tried, and hanged for war crimes. It's generally acknowledged now that he was following orders, but those who gave the orders were not themselves held responsible for what happened there. Henry Wirz (Richard Basehart, beloved on [i]MST3K[/i]'s Gypsy) is on trial for his life. It's July, 1865. Lincoln is dead; the conspirators were hanged on the seventh of that month. Lieutenant Colonel N. P. Chipman (William Shatner, believe it or not) is prosecuting the case. Just before it starts, Wirz attempts suicide, but he is considered well enough to stand trial. He is, I believe, in poor health (I read it somewhere, but not of my online resources seem to have that information) and spends most of the trial lying down. Slowly, the information is brought forward--the trial stretched over two months. Many horrific things are told about the camps, including its layout, surely beyond Wirz's control. The veracity of some of the witnesses is in no little doubt, though neither are the horrors of the camp. I don't dispute that what happened at Andersonville was awful. The camp was open for 14 months. 45,000 men passed through the camp. Of them, 13,000 died. In fact, Clara Barton, after her war nursing and before her formation of the American Red Cross, spent time helping to catalogue the dead. There was one stream that provided both drinking water and toilet facilities for the camp. There was no shelter. There was not enough food. There was not enough medical care. The camp was horribly overcrowded. For those in certain circles, it has become a watchword for how horrible conditions can be. No, the men weren't actively killed--unless they crossed the so-called "deadline"--but a camp some 16.5 acres held, at its height, 32,000 prisoners. That is horrible. Really, really horrible. However, the Confederacy couldn't feed its own soldiers. They had relied on prisoner exchange to make the conditions of the camp bearable. It was supposed to be short-term. In the film (which is closer to a filming of the play), Basehart successfully portrays Wirz's frustration at the blame he is being forced to shoulder. He is accused of personally shooting prisoners despite the fact that he was physically incapable of performing the reported actions. Shatner, for a change, does a pretty good job at showing the zealousness of his character. This is a man determined at all costs to get what he sees as justice. Oh, it's true that we've got the requisite Shatnerian pauses, and it's a little disconcerting to see Captain Kirk in a Union uniform, but this is a man doing what he sees is right. He really believes his witnesses, even when they are shown to be at best mistaken. The performances of those witnesses are pretty good. Martin Sheen's apparently in this, too, but I don't remember him. Delightfully, this is not a production where people seem to have glued small rodents to their faces for the most part. Wirz actually had facial hair, but Basehart appears cleanshaven. Shatner's got weird sideburns, but that's practically a career requirement for him. The film has the grainy nature one would expect for a made-for-PBS production from 1970, and the cinematography is a little off, but it's still pretty compelling. It's a little-known chapter of American history, and I think the evidence shows that it's a shameful one all around. So many things could have made the real Andersonville situation better. This is not the best of all possible productions showing this information, but I do think more people could stand to see it. Fortunately for you, you've got a chance--I got this from Netflix, and so can you.
Edith Nelson
Hollywood Television Theatre Quotes
There are no approved quotes yet for this movie.