Dice Rules
(1991)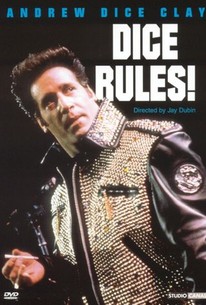 Movie Info
Outrageous, misogynistic and vulgar-to-the-max comedian Andrew Dice Clay does his stuff in this combination stand-up concert video and series of comedy sketches. The sketches, demonstrating that The Dice Man used to be a klutzy wimp, begin the film which then jumps into a filled-to-capacity performance at Madison Square Gardens. The film contains strong profanity, blatant racist remarks, graphic references to sex and other "adult" subjects.
Rating:
NC17
Genre:
Directed By:
Written By:
In Theaters:
On DVD:
Runtime:
Studio:
LionsGate Entertainment
Critic Reviews for Dice Rules
Audience Reviews for Dice Rules
by Dane Youssef "IF YOU'RE A DIE-HARD DICEMAN FANATIC.... WELL, YOU STILL MAY NOT LIKE THIS ONE" Richard Pryor, Eddie Murphy, Chris Rock, Martin Lawrence, Bill Cosby, Bernie Mac, Darryl Hugley, Jerry Seinfeld, Steve Harvey. What do they all have in common? They are all stand-up comedians who have had the honor of having their stand-up acts get filmed into movies. "Dice Rules" is one of the few to actually make it to theaters. And with good reason. Dice is one of those comedians who has a strong persona and stage presence. As a matter of fact, that's stronger than any of his material. The very beginning of the flick where the Diceman croons is almost worth the rental price. He has such pipes, you kind of wish he actually put more use into them. He did a first-rate job in his first (and only) Hollywood star-vehicle "The Adventures of Ford Fairlane" where he sings "But I Ain't' Got You." He does the same here with an opening bit "Can't You Take A Joke?" But before we're treated to the main course (Dice in a sold-out concert at Madison Square Garden), we get an appetizer. You know, so these things feel more like an actual movie than just some tape-recorded stand-up bit. The opening clip entitled "A Day In The Life" features a cock-and-bull prologue about who he was (Andrew Silverstein) before he became "The Diceman." Eddie Murphy has a brilliant one in his stand-up movie "Raw," and Martin Lawrence had an effective one at the beginning of "Runtelldat" where the press is airing out Lawrence's dirty laundry and kicking him when he's down on his knees. That quickie movie in "Dice Rules," is the biggest abomination and folly since Napoleon and Waterloo. Dice has NEVER been this unfunny. Has anyone? The Jerry Lewis vocalizations are painfully annoying. Not just annoying really, but actual torture. Like bamboo under the fingernails or death by a thousand cuts. I know he's know for that s--t (he's known for breaking into on occasion), but it irritates to the point that we feel like we're being interrogated. The people antagonizing his a--, riding him like a damn pogo stick, until he's ready to break. It's so horribly done. It's not even so bad, it's funny. It's more like... unforgivable. And the payoff (I can't believe I just used that term), is so patronizing, it's the most offensive thing in the whole movie. Not the goddammed stand-up material. I read right here on IMDb that the whole "Diceman" character was largely inspired by Jerry Lewis in "The Nutty Professor." Fine, but that mock Lewis voice is excruciating. And the other actors are just as bad. Well... almost as bad. Good Lord, and he wrote this bit? I was so sick, I couldn't even vomit. Then this mini-colonoscopy ends and we're treated to centerpiece. The minute we see the Diceman pull on his luxurious studded trademark leather jacket, we know something big is happening. As if Elvis himself has resurrected and is performing for one night only. Perhaps for them, it is. His impersonation of an Italian accent is so thick, you could choke on it. It's a miracle he doesn't. The weirdest thing about the film is the audience members in concert. The audience doesn't stay quiet while he tells his jokes and then laugh when the punch line comes. They spend almost every second throughout the film cheering. Every time he opens his mouth, every time he says something---anything--the audience cheers like mad. Hell, every time he finishes a sentence (even before he actually even begins to make a point), the whole damn crowd gives him a standing ovation. Jesus, throughout the whole damn movie, the cheering never stops. Dice may the star here, but it feels like we hear the damn crowd more than him. I... I must confess, I actually someone to start heckling them. I wanted to start throwing tomatoes at the crowd. Remember the "Seinfeld" episode where Jerry gets heckled by Kramer's girlfriend, so Jerry, in retaliation, goes to where she works to heckle her? Yeah, I wanted to grab every one of them and scream, "Hey, idiots! You're in awe of the Dice, I can see that, but I can't hear HIM! DAMN! Oh, and you know that whole "Jerry Lewis" vocal shtick I was talking about? Yeah, he keeps doing it throughout the whole movie. Whenever he's impersonating someone else, especially some woman. Lord, it makes you want to kill. Him. Dice's usual subjects---women, sex, homosexuals, New Yorkers, the elderly, the ill. Hell, birds and insects, even. I gotta admit, I laughed at that. Damn freaking' birds & insects. Still, as a stand-up concert film, this one's kind of a strike-out. The opening bit is too dumb and horrible to inspire anyone to do anything, but feel pain. And the rest of the stand-up, well... if you're a Dice fanatic (and you damn well who you are), then well.. hit-and-miss. Dice is polarizing. You love the MF or you want him dead. There's no middle ground. So, if you are reading these words right now... this review, and ANY of the other registered user reviews on IMDb for this one... that means that... A)Youv'e been wanting to see this movie since you first fell in love with Dice. But it's been hard to find, especially on DVD. Not exactly "Casablanca." B)You already have and you're just curious to see what others had to say about it. Otherwise, you'll give yourself rabies, beat yourself to death, swallow fire (and more) before you even glance at one frame at anything related to Dice. Still, "Ford Fairlane" continues to be his best work. I'd like to see Silverman actually cut a whole album full of music with himself on vocals and maybe push back for a while on the possibility of another comedy album anytime soon. --Dice Bores, Dane Youssef danessf@yahoo.com http://profile.myspace.com/index.cfm?fuseaction=user.viewprofile&friendid=58175682 http://www.google.com/profiles/youssef.daneyoussefcom.dane http://www.amazon.com/gp/cdp/member-reviews/ASKUZHOKQ1W3E/ref=cm_pdp_rev_title_1?ie=UTF8&sort_by=MostRecentReview#R2MFYILVVRXX73 http://www.imdb.com/user/ur2718160/comments-expanded?start=0&order=alpha http://wiki.answers.com/Q/User:DANE_YOUSSEF http://www.epinions.com/user-surfur http://en.wikipedia.org/wiki/User:DANE_YOUSSEF http://en.wikipedia.org/wiki/User:SURFUR http://uncyclopedia.wikia.com/wiki/User:DANEYOUSSEF http://www.movieweb.com/u/dane_youssef/reviews http://www.youtube.com/SURFUR http://www.youtube.com/user/DaneYoussef?feature=mhum http://hairmetal.ning.com/profile/DaneYoussef?xg_source=activity http://www.flickr.com/people/46939743@N07/ http://twitter.com/Dane_Youssef http://www.neoseeker.com/members/daneyoussef/
Dane Youssef
Here's what I wonder: if a movie is originally in a foreign language, and you watch it dubbed into your language, can you hold it against the movie if the dialogue is flat? I watched "City of God" the other day, and I really liked it, but two or three times I remember wishing that the dialogue was less utilitarian. I realize that teenage thugs shouldn't talk like poets, but a nice turn of phrase never hurt a Scorsese movie, which seems like what this movie would most like to be. (I definately don't mean that in a bad way - the movie's original, but it's original in a way that a Scorsese movie would be). So anyway, then I remembered reading somewhere (probably the Ebert site, which I read a lot, because I'm a huge loser) that the dialogue was supercool in the original Portugese. But I don't speak Portugese, so I'm in a quandry. I guess what it comes down to is that I liked the movie, so I don't want to hold the dialogue against it, so I won't. If I didn't like the movie, I suppose I would. And either way it doesn't matter. Aren't you glad you read this? Here's a little sidenote: On the RT page for this movie, one of the only negative blurbs is from Jan Stuart of Newsday and she says: "Finally, the movie is more numbing than emotionally shattering." I read her review, and in context this sentence makes sense, but wouldn't it be funny if there was a reviewer out there who only liked movies she felt were "emotionally shattering"? "True, 'Caddyshack' was funny, as when Bill Murray blew up the golf course while trying to kill that varmint, but through it all my emotions remained entirely unshattered." "Emotion shattering-wise, Pauly Shore's performance in 'Jury Duty' didn't even register a cracking or chipping." "Sometimes I wasn't sure 'Dice Rules' was even trying to shatter my emotions."
Tim Weinmann
[i][b]Saw IV[/b][/i] Starring: Tobin Bell, Costas Mandylor, Scott Patterson, Betsy Russell, Dina Meyer, Donnie Wahlberg, Angus Macfadyen, and Shawnee Smith. Directed by Darren Lynn Bousman. Written by Patrick Melton and Marcus Dunstan. Rated [b]R[/b] (for sequences of grisly bloody violence and torture throughout, and for language). Running time approximately 1 hour 35 minutes. [center][img]http://i179.photobucket.com/albums/w297/thebumblebeast/saw.jpg[/img] [i]Hmmm...wow...I'm good, thanks.[/i] [/center] I'm quite finished with the [i]Saw[/i] franchise. I got about ten minutes into [i]Saw IV[/i], which opens with a graphic autopsy, and decided enough was enough. I nearly ralphed. I suppose some days I'm just not in the mood for a disgustingly morbid and sadistic mindfuck. Weird, huh? *Note: following my first "viewing," I had shorts spurts of conversation with my beloved Megan. Her words drove me to give the film a full chance, which as of late I've found very hard to give to many of the horrible films I've been watching. I finished it, and while it's not a "Zero," it's certainly nowhere near as good as the first, which wasn't that great to begin with. All these films are is one big, long, stretched out story that doesn't need to be told. Jigsaw is so pretentious it kind of hurts. Good kills, little else. [b]*1/2 (out of ****) D+[/b] [b][i]Hatchet[/i][/b] Starring: Joel David Moore, Tamara Feldman, Deon Richmond, Kane Hodder, Mercedes McNab, Robert Englund, Joshua Leonard, and Tony Todd. Written and Directed by Adam Green. Rated [b]R[/b] (for strong bloody horror violence, sexual content, nudity and language). Running time approximately 1 hour 24 minutes. [center][img]http://i63.photobucket.com/albums/h159/NuBz86/hatchet.jpg[/img] [i]They must've almost escaped the set...[/i] [/center] I was really looking forward to [i]Hatchet[/i], despite its bad reviews. I was wrong to do so, I'll tell you what. Here is a film so inept, so stupid, so shockingly awful, so completely aggressive in its badness that I was left with a taste in my mouth as sour as a War Head smeared with salt. The dialogue is dreadful, the performances even worse, the nudity gratuitous (of course) and the violence, which is what I was most looking forward to, surprisingly fake and quite the opposite of exciting. It's a terrible film, and it belongs on a shelf somewhere next to the likes of [i]The Mangler[/i] and [i]Midnight Cabaret[/i]. [b]1/2* (out of ****) D-[/b] [b][i]Good Luck Chuck[/i][/b] Starring: Dane Cook, Jessica Alba, and Dan Fogler. Directed by Mark Helfrich. Written by Josh Stolberg. Rated [b]R[/b] (for sequences of strong sexual content including crude dialogue, nudity, language and some drug use). Running time approximately 1 hour 35 minutes. [center][img]http://i63.photobucket.com/albums/h159/NuBz86/goodluckchuck.gif[/img] [i]Don't be fooled by this picture's cuteness. I was. Ouch.[/i] [/center] My mother recommended this movie to me. I knew it had a 3% tomatometer, but I trust my mother. She led me to the glory of [i]Pink Flamingos[/i], [i]Caligula[/i] and [i]The Last House on the Left[/i], for goodness sake! Okay, so I should've told her to shut up and snapped the phone shut. [i]Good Luck Chuck[/i] is an apallingly awful shitstorm of bad one-liners, tired slapstick and offensive attempts at sentimentality. What's worse is that Dane Cook's best friend is one of the most vile, morally reprehensible characters I've ever seen in a film - ever. He's like Andrew Dice Clay, but short, fat and super-creepy. What's even worse? The whole film hinges on the ridiculous thought that a 10-year-old goth girl could really have successfully cursed Dane Cook's character...but then it doesn't even follow that rule. I laughed a couple times, but that's about it. It's such trash. [b]1/2* (out of ****) D-[/b] [b][i]Dice Rules[/i][/b] Starring: Andrew Dice Clay. Directed by Jay Dubin. Written by Lenny Shulman and Andrew Dice Clay. Rated [b]NC-17[/b] (for so many reasons). Running time approximately 1 hour 28 minutes. [center][img]http://i63.photobucket.com/albums/h159/NuBz86/dicerules.jpg[/img] [i]No, he does not.[/i] [/center] Andrew Dice Clay is not funny. Consequently, his concert movie, [i]Dice Rules,[/i] is not funny. In fact, it is the worst, most offensive, most disturbing, most hurtful and most wretched comedy act I've ever seen, on film or anywhere else. Oh, and the skit beforehand is dumb and unfunny enough to put Rob Schneider on an "All-Time Top Ten Funniest Guys Ever" list. Okay, so that was stretching it a but, but you get the idea. It's a terrible film. If you must see it, it's on youtube in six or seven parts. Enjoy...er...yeah. [b]Zero Stars (out of ****) F[/b] [i][b]I Know Who Killed Me[/b][/i] Starring: Lindsay Lohan, Julia Ormond, Neal McDonough, and Brian Geraghty. Directed by Chris Silvertson. Written by Jeffrey Hammond. Rated [b]R[/b] (for grisly violence including torture and disturbing gory images, and for sexuality, nudity and language). Running time approximately 1 hour 45 minutes. [center][img]http://i63.photobucket.com/albums/h159/NuBz86/IKnowWhoKilledMe.jpg[/img] [i]All I saw was, "blah, blah, blah, I'm a dirty tramp."[/i] [/center] I don't even know what to say that hasn't already been said. It must be seen to be believed. It's so very bad, I honestly have nothing even remotely witty to say. It kind of hurts, actually. Maybe she should lay off the crack? Yeah. [b]1/2* (out of ****) D-[/b]
Christopher Lozier
Dice Rules Quotes
There are no approved quotes yet for this movie.
Discussion Forum
Discuss Dice Rules on our Movie forum!