Andy Warhol's Bad
(1977)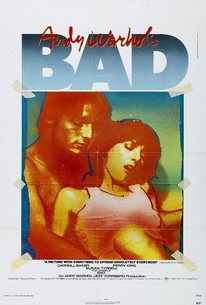 Movie Info
The final film released under the Andy Warhol moniker (which Warhol executive produced) is a much more polished affair than Flesh, Trash or Heat, but preserves the oddball wit and eccentric flair that made those films so memorable. Directed by Warhol film editor Jed Johnson, Andy Warhol's Bad focuses on Hazel Aiken, a New York housewife who has to support a houseful of relatives on her own. She pays the bills by operating an electrolysis service out of her home and also by running a murder-for-hire service staffed exclusively by women that specializes in unsavory jobs like killing children and house pets. As a result of her latter job, she has to deal with unwanted attention from Detective Hughes, a corrupt cop who wants her to surrender one of her employees so he can make an arrest. Hazel's complex life grows even more difficult with the arrival of her nephew J.T. (Perry King), a sleazy layabout who wants to join her hit squad. As the bodies pile up around her, Hazel discovers that her cold-blooded take on capitalism and family values comes with a price she didn't imagine. Andy Warhol's Bad differs from previous Warhol productions because of its higher production values and Hollywood-friendly casting, but retains its sense of underground credibility thanks to a wild story line that trashes every taboo in arm's reach to create a memorably bizarre satire. Some sources erroneously list the year of release in 1971; it was in fact produced in 1976 and issued to theaters by Roger Corman's New World Pictures in 1977. The MPAA classified that version of the film with an X. It was later reedited to receive an R, which is the version available on video.
Critic Reviews for Andy Warhol's Bad
All Critics (7) | Fresh (5) | Rotten (2)
This sicko black comedy is a near masterpiece in outrageous schlock shock.

Ozus' World Movie Reviews
You would be wise not to read any further material about BAD until you've viewed it for yourself

Amusing Warhol Factory opus with a great Susan Tyrell performance.

Mountain Xpress (Asheville, NC)
Audience Reviews for Andy Warhol's Bad
Totally funny and mesmerizingly screwed up. Danny Peary's book, 100 Cult Movies, enumerates how it's as close as Warhol's gang get to Hollywood movie-making (name actors, union crew) while keeping their eyes on the prize of disturbing our sensibilities. He thinks it's pretty funny, too, but even more remarkably, pretty controlled.
Tara Vaughan
½
GREAT final film from the Andy Warhol factory, this time not directed by Paul Morrissey, who by then had moved on to other things. This one feels a little closer to a John Waters film, but with a slightly more serious edge. The score by Mike Bloomfield (of all people) is quite excellent, with the legendary Carroll Baker heading a wonderfully offbeat cast in the story of a psychopathic suburban widow (Baker) who runs an electrolysis business out of her kitchen, while also running an all-female assassins-for-hire operation on the side. Perry King is the handsome but deeply troubled drifter who comes along to turn this dysfunctional household on its head. Lots of sick humor and kitschy dialogue will keep lovers of cult cinema engaged, while serious film buffs will have fun picking out all the cinematic references. I don't want to reveal too much about the film, just see it when you have the opportunity!
Steve Joseph
½
The last film produced by Andy Warhol, Bad, as sicko black comedy, is a near masterpiece in outrageous schlock shock.
Lee Mayo
Andy Warhol's Bad Quotes
There are no approved quotes yet for this movie.
Discussion Forum
Discuss Andy Warhol's Bad on our Movie forum!