Angels Crest
(2011)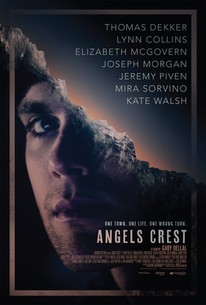 Movie Info
In the working-class Rocky Mountain town of Angels Crest, young father Ethan (Thomas Dekker) is doing his best to raise his three-year-old son Nate. He has no choice-Nate's mother (Lynn Collins) is an alcoholic. But one snowy day Ethan's momentary lapse in judgment results in tragedy, catapulting the town's tight-knit community into strange new directions as they try to decide where the blame lies. -- (C) Magnolia
News & Interviews for Angels Crest
Critic Reviews for Angels Crest
Audience Reviews for Angels Crest
½
"Angels Crest" starts on a snowy morning with Ethan(Thomas Dekker) driving his three year old son Nate(Ameko Eks Mass Carroll) to the countryside. While Nate sleeps in the back seat, his father takes the opportunity to go look for some deer. When he returns, Ethan is gone. As the search intensifies, it is up to Angie(Mira Sorvino) to notify Cindy(Lynn Collins), the boy's mother. Even with all the local help and Ethan not stopping at nightfall, they do not find his son's body until the following morning. To make matters worse, the district attorney(Jeremy Piven) is planning on filing charges against him. "Angels Crest" has a decent enough idea in trying to explore a small town's reaction to an unspeakable tragedy. But it lacks important ingredients like a direction or a cohesive story, as its soap opera like structure resembles a circle, with characters coming and going as they please. Things improve slightly as the movie almost develops a mordant sense of humor which is necessary for another movie that suggests if you turn your head for one second, your child will end up getting eaten by wolves, even if you live in New York City. Well, at least the scenery is nice.
I sometimes feel like I am watching different movies than other people are watching..especially the Independent Film underdogs. This was very well done, moving, and will stick with me for quite awhile. These are the kinds of things that I look for in a film. As a parent, I can absolutely see all that came about in this film happening. I can see trying to make sense of the death...trying to desperately find some way for it not to be my error. I can see not being able to live with myself when I finally came to terms with what happened. I thought Thomas Dekker (the dad) did an outstanding job, and I really felt his pain. Good, memorable movie, in my opinion.
Cynthia S.
Super Reviewer
At its' heart, Angels Crest is an intriguing and heartfelt drama about dealing with a tragic loss in a small town. The acting is fairly strong, with most of the actors avoiding over-the-top melodrama for something that feels more real. What lets the film down, however, is the script, full of an abundance of underdeveloped characters and ambiguous character arcs. This leads the film dangerously close to "misery porn", as it isn't especially profound or insightful. The premise and execution are good enough to make it watchable, but it never comes to a level of a truly good drama.
Jeffrey Meyers
Super Reviewer
Discussion Forum
Discuss Angels Crest on our Movie forum!