Angst
(2006)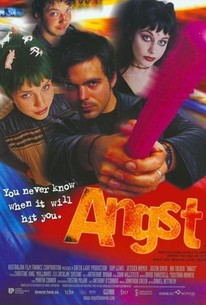 AUDIENCE SCORE
Critic Consensus: No consensus yet.
Movie Info
The romantic misadventures of a group of twenty-something Australians sets the stage for this independent comedy. Dean (Sam Lewis) is a guy fascinated by horror and schlock movies who works at a video store. He's just been dropped by his girlfriend Heather (Lara Cox) following an embarrassing incident involving one of her stuffed animals, and is now sharing an apartment with his friend Ian (Justin Smith) and Jade (Jessica Napier), a fellow film buff that Dean used to date. Dean offers Jade some sage advice as she tries to break off with her current boyfriend, while he looks for a new girlfriend of his own. May (Abi Tucker), a cute goth girl who rents at Dean's video store, seems like a good prospect at first, but he's still having trouble getting over Heather. Dean eventually finds himself looking for love over the Internet, while Ian uses the romantic travails of himself and his friends as fodder for his stand-up act; now all he has to do is work up the courage to actually perform in front of an audience. Angst was the first feature from filmmaker Daniel Nettheim, and was featured at the 2000 Melbourne Film Festival.
Rating:
R
Genre:
, ,
Directed By:
Written By:
In Theaters:
On DVD:
Runtime:
Studio:
MTI Home Video
Critic Reviews for Angst
There are no critic reviews yet for Angst. Keep checking Rotten Tomatoes for updates!
Audience Reviews for Angst
½
Wow, where do I start. Well, I love my Wii. We've been playing it and my tennis score is 1500+ now. I love Wii Tennis. It is the most amazing thing. I also love that the Wii is still whoreslapping the PS3 and even the Microsoft guy likes the Wii - that is saying quite a bit. I bet Sony cuts the ps3 price very soon. All it is good for right now is collecting dust, and there is talk that they may be losing exclusivity of [i]Final Fantasy XIII[/i] to the 360. Shit, that's like a near death blow. Now all that needs to chug around in the rumor mill is [i]Metal Gear Solid 4[/i] for the 360. Don't think it is possible? Snake isn't exclusive to Sony, not in any way. Look at the new [i]Smash Bros.[/i] game. Snake is in that. Look at the remake of MGS for the Gamecube. If Sony loses exclusivity to MGS 4, the PS3 will die in a fire. They already lost exclusivity to [i]Grand Theft Auto IV[/i] and [i]Assassin's Creed. [/i]I hope the PS3 dies soon, I hate Sony so much for all the evil they've done. I also hope Blu-Ray fails. If that fails, Sony will be so crippled. MMMMMM. Man, my homework is catching up to me. Science is requiring quite a bit more effort than I am willing to exert, I have read 30 of 200 pages of my english book, I got some psychology homework that is due in a few days and tomorrow I find out if I passed or failed my first Math exam. The science just requires me to do these rather boring experiments and they teach me nothing except that my teacher is silly as shit. I hate physics. Review time! [b]Pulse[/b] This was an OK movie. It was rather odd and it sort of reminded me of Stephen King's novel, [i]Cell[/i], which I love with all my little heart. The movie was basically about these ghosts that took over the world via some weird virus that some guy wrote one night. It was slightly boring with only a few scary parts to it. The acting was decent and the story was OK. The ending was very nice - I won't spoil it for you. I was sort of happy at the ending, and sort of depressed. This movie simply suffered from the "OH MY GOD GO OFF ALREADY" syndrome. You find this problem in shitty movies like [i]The Black Dahlia.[/i] All in all, the movie was interesting to watch, but it failed to really stimulate my mind. Some people will probably love it, others will probably hate it. I am a bit in between. Watch it and draw your own conclusion. [b]Angst[/b] When we turned this on, almost instantly we both knew this movie was about to suck the dirt out of the carpet. The cheap, gimmicky ass cheap-porn-quality film and camera angles, along with the fact that everyone was European really were good hints. We were so right. Apparently the main chick's vagina eats the men she has sex with because her mind was scarred when she witnessed her mother getting raped. Instead of focusing on her vaginal hunger problem, the movie also threw a story in about a guy who was obsessed with her and some siamese twins. Yeah, the siamese twins were in this movie way too much and yet they meant nothing to the story. Plot holes, scattered story, poor acting, piss poor spcial effects, asstastic dialogue and just shitty filming methods really delivered something that finally gets panned like that Garfild movie. Blockbuster should have paid me to watch this shit.
Amanda Xenobia
½
This certainly has one of the most bizarre plots I have ever seen - a woman has a sexual problem, everytime she has sex with a man who vagina sucks him inside her, leaving only his clothes behind. Yup, you heard it right. Really stupid, very cheap production and the acting is not particularly stellar. What a strange English horror film.
James Higgins
Angst Quotes
There are no approved quotes yet for this movie.