Anima
(1998)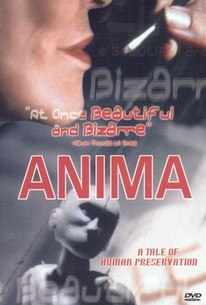 AUDIENCE SCORE
Critic Consensus: No consensus yet.
Movie Info
In this drama, taxidermist Kate is quizzed by documentary filmmaker Bill, who then heads to upstate NY for an interview with taxidermy experts Sam and Iris. Poking about, Bill begins to suspect Sam and Iris of past Nazi associations.
Critic Reviews for Anima
There are no critic reviews yet for Anima. Keep checking Rotten Tomatoes for updates!
Audience Reviews for Anima
The back of the DVD case for [i]Anima [/i]states its' genre as "Horror Drama." I'm not exactly sure what sort of crack the folks at Vanguard were on when they came up with that one, though it's probably the same thing they take when designing their atrocious cover art. The drama part is accurate, and, indeed, at times it looks like [i]Anima[/i] could veer firmly into Audition territory, but it never really does. It's got its' eerie moments, but horror it ain't. Good little movie, though. Sam and Iris are an elderly couple that live essentially as hermits in the middle of the Wyoming woods. Sam was once an expert on taxidermy, pioneering several now-common practices, but he's turned away from his past, especially the part about the Nazis, from which he felt he warranted a name change. Enter Bill Hickock (not kidding), a documentary filmmaker working on a flick about taxidermy. Bill manages to track Sam and Iris down, and becomes fascinated with what they're trying to hide, even after the two have clearly blown him off after he and his film crew intrude on their privacy. His going back for more lets him in on more knowledge about Sam's taxidermy skills than he'd really wanted to know. Anima is a well-acted, well-intentioned piece of filmmaking that never quite rises to be as dramatic or interesting as it wants to be. Writer/director Craig Richardson gives his characters plenty of depth, an intruiging theme of privacy issues to play with and a fine climax, but he fails to give any of the visual punch that two of the major setpieces featured in the film--taxidermy and puppeteering--allow. There's loads of potential in the concepts behind [i]Anima[/i], including how taxidermy can, in some form, resurrect the dead in the eyes of the living, so it's rather dissappointing that little of it manages to go all the way. Still, the actors do a hell of a job (the only "name" in the cast I recognized is Tom DiCillo regular Rica Martins as a fellow taxidermist) even if the film itself, lost for ideas as to which tone to use, decides to have virtually no tone at all. Has anyone else seen this?
Paul Freitag
Anima Quotes
There are no approved quotes yet for this movie.
Discussion Forum
Discuss Anima on our Movie forum!