Animal Farm
(1954)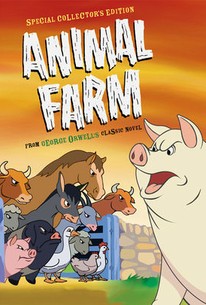 Movie Info
The British animation firm of John Halas and Joy Batchelor perform yeoman service in adapting George Orwell's allegorical novel Animal Farm to the screen. As any high-school English student can tell you,the original 1945 novel was Orwell's spin on the rise and fall of the Communist myth. A group of intelligent animals overthrow their corrupt human owner and set up their own self-sustained farm, predicated on an idealistic credo: "All Animals are Created Equal", "No Animal Shall Ever Drink Liquor", "Four Legs Good: Two Legs Bad" etc. But when Snowball the Pig (read: Trotsky) is overthrown by the despotic Napoleon (read: Stalin), all idealism goes out the window, and soon the pigs are ruling dictatorially over the other animals. Before long, Animal Farm operates on but one principle: "All Animals Are Created Equal, But Some Are More Equal Than Others." Orwell's ironic ending, in which it becomes impossible to tell the difference between the Pigs and the Humans, is blunted in favor of a grafted-on happy ending, perhaps to mollify the kiddie trade. Maurice Denham supplies all the character's voices, while Gordon Heath serves as narrator. ~ Hal Erickson, Rovi
Cast
Critic Reviews for Animal Farm
Audience Reviews for Animal Farm
The gist here is simply to enjoy Orwell's popular take on the rise and fall of Communism, which is still in a pretty creative way. The animation, for 1954, ain't bad either, but its the story that carries the efforts entirely.
Kevin M. Williams
Super Reviewer
I prefer this adaptation of Animal Farm to the nineties version, it really works better in animation. If you like the book, check out this movie.
½
The first full-length animated picture to be released in Britain, this is a fantastically intelligent film. Never putting its political satire as top priority, it is an entertaining movie on any level, but the brilliant portrait of Stalinism is its strongest point.
Animal Farm Quotes
| | |
| --- | --- |
| The Animals: | All Animals Are Equal...but some are more equal than others. |
| The Animals: | All animals are equal, but some are more equal than others. |
| | |
| --- | --- |
| The Animals: | Four legs good. Two legs bad. |
| The Animals: | Four legs good, two legs bad. |