Animal Room
(1999)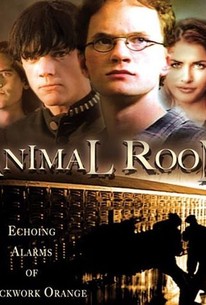 AUDIENCE SCORE
Critic Consensus: No consensus yet.
Movie Info
A high school student enters a new, highly controversial drug treatment program, with violent results.
Rating:
R
Genre:
Directed By:
Written By:
In Theaters:
On DVD:
Runtime:
Studio:
Vanguard
Critic Reviews for Animal Room
There are no critic reviews yet for Animal Room. Keep checking Rotten Tomatoes for updates!
Audience Reviews for Animal Room
It's Doogie Hauser, strung out on drugs, against Shaggy as the leader of a gang of bullies with absolute lack of brains and morals. There is a bunch of physical brutality - mostly perpetrated against Doogie - and loads of pseudo psychiatric crap sprinkled with quotes and literary references meant to make the characters sound deep. All of this is wrapped in an in-your-face condemnation of the US school system. It's a muddled piece of garbage.
Don Schick
Don't be fooled by the fairly impressive cast. This movie is a big stinking pile of poo. It's terribly edited, terribly produced and, surprisingly enough, pretty terribly acted. This is one of the few times I've been disappointed in Neil Patrick Harris, and in fact the only actor I'll be likely to remember in his role here is Matthew Lillard. Other than his performance, this movie is a complete waste of time.
Amanda Hendsbee
WTF. This movie is an editing nightmare. So many times it starts to go somewhere and then completely leaves you hanging, and changes course. For example, out of nowhere the dad of a kid they beat up pulls up and blows one of the bad kids away with a shotgun (a total lacky kid who had hardly anything to do with it) and drives off. He had no way of knowing who did it to his kid. They never even resolve if the kid died or not, or what they did with him. The friends of the bad kid never talk about how the guy got blown away. The dad never shoots anyone else and they never even acknowlege that it happens. Its as if they filmed 20 other scenes about it and then had to cut them out, but left in his death scene so that we wouldn't wonder where his character went. THe whole movie is like this, and top it off with horrible people that nobody cares about as all of the cast. And what's up with the guy who decides one day to be Doogie Howser's best friend again? He's a bit creepy don't you think? He's his new best friend to the point of ninja swording somebody for him? Anyways. Matthew Lillard needs to die, and this movie only helps to confirm this.
Curtis Lilly
Super Reviewer
Animal Room Quotes
There are no approved quotes yet for this movie.