Animalympics
(1980)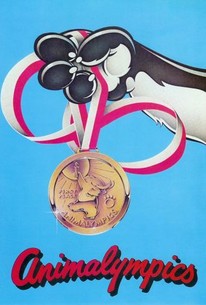 AUDIENCE SCORE
Critic Consensus: No consensus yet.
Movie Info
Goofy animated animals compete for Olympic gold in this entertaining family-oriented feature that includes the vocal talents of comedians Gilda Radner, Harry Shearer and Billy Crystal.
Critic Reviews for Animalympics
There are no critic reviews yet for Animalympics. Keep checking Rotten Tomatoes for updates!
Audience Reviews for Animalympics
Although it's got its moments of funny political incorrectness, the film is ultimately targeted at a very very young audience and it's unlikely anyone but them (or the nostalgic) will find much to enjoy in it.
Todd Anderson
The spirit (and individual sports) of the olympic games get charmingly anthropomorphized in this strange but entertaining mock-newscast coverage of the "Animalympic Games". Alligators, otters, lions, penguins and other critters take their shots at glory, with the humor often simply revolving around watching how, say, a flamingo would handle herself on a pair of ice skates. There are some digs at the cheesiness of tv sports coverage, and also the shallowness of the modern sporting industry itself, but mainly director Steven Lisberger (he went on to do "Tron") and company are content to mine slapstick laughs out of gags like a squadron of squids trying to cope with a runaway bobsled. Its lack of a cohesive storyline (there are few 'main' characters, and only occasional glimmers of any recurring plot arcs) may keep you from really immersing yourself in the movie, but it also keeps things breezy, light, and above all, fun. Special mention should be made of Graham Gouldman's outstanding original songs and music, which sparkle with both bouncy charm and lyrical poignancy.
Jonathan Yeager
One of those movies that the old, commercial-free Disney Channel used to show once a month, I found it for the first time in probably 12 years on Comcast's free On Demand movies and so I popped it on, figuring it would be fun to see again for an hour fifteen. What I got was a movie that doesn't have a real plot to it, so it's a big shift from the typical Disney stuff that features a nauseatingly familiar hero's journey. Here, the story is an animal olympic games, just as the title suggests, with a plethora of little events and brief introductions to characters. While the film doesn't create big attachment with any characters beside Rene Formage and Kit Mambo, two rival runners who fall in love during a marathon and lead the movie's only major deviation from Animal! Humor! entertainment, the overwhelming film reinforces sportsmanship (such as the New York gator giving his second medal to his competition) and respect (such as the boar who meets his match fencing when a eagle shows up). The voice cast does a great job, particularly Shearer and Radner, who each do a billion voices and convey a range of characters. If the movie has a fault, it's that it features so many of the political incorrectnesses that are no longer omnipresent; there's a chainsmoking turtle DJ, stereotypically voiced Asian penguin judo masters, and an anteater who downs a pitcher of beer in one suck. Sure, those things are hilarious now, but it reveals the gap between what was acceptable in a kid's film then and now. All in all, it's nothing revolutionary (even though Brad Bird of Pixar fame was one of the animators) but it sure is a pleasant trip back that doesn't get overwhelmed by the incongruencies that ruin so many old kid shows (although I invite any mature viewers to laugh at the prospect of goat/cheetah children!)
Michael Steele
Animalympics Quotes
There are no approved quotes yet for this movie.
Discussion Forum
Discuss Animalympics on our Movie forum!