Anne of Green Gables: The Continuing Story
(2000)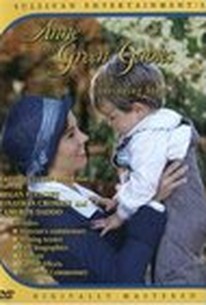 AUDIENCE SCORE
Critic Consensus: No consensus yet.
Movie Info
Set years after her resignation and return from Kingsport Ladies' College, Anne is persuaded to join her fiance, Gilbert, in New York City as he begins his tenure at a major hospital. She is introduced to a publishing firm in the hope of a chance to get published and achieve the same success as Gilbert. Instead, both face the disillusioning realities of their professions which makes them decide to return to Avonlea. However any chance of lasting happiness is dashed when Gilbert decides to bow to social pressure and enlist to serve in The Great War in Europe. Anne stays behind and becomes a published writer, but learns that contact has been lost with Gilbert. Seeing no other option, Anne decides to venture to Europe herself to find him. In doing so, she begins an adventure that would challenge her wits and imagination to the limit.
Rating:
NR
Genre:
,
Directed By:
On DVD:
Runtime:
Audience Reviews for Anne of Green Gables: The Continuing Story
Great story line! I love Gilbert in this and loved the reunion of Anne and Gilbert! Good ending to this series!
Victoria Liford
Now I know a television movie of this caliber normally doesn't grant itself a review however, I grew up with Anne of Green Gables and Anne of Avonlea. I religiously watched them as a child all the way up until I was a teenager....so when the flu took over my body, I was longing for viewing comforts from the past and for some reason all I wanted to do was watch Anne's adventures in Green Gables. The download took about 2 days but I got everything: Green Gables, Avonlea, The Continuing Story and the television show, The Road to Avonlea which I'd never heard of before but stars Sara Polley. During my instability, the Gables struck my heart with warmth and through my fever induced tears brought laughter. Watching Gables & Avonlea was exactly what I wanted/needed. Which is why I want to talk about this pile of garbage called: Anne of Green Gables the Continuing Story. Kevin Sullivan how could you ruin such a good thing? As writer, director and producer of the first two films based on LM Montgomery's classics I expected much more from you. Everything in this film is wrong wrong wrong from the start. First off the timing is not continuous with the first two films. For example, Anne is....roughly 18 when her and Gilbert kiss on the bridge and become engaged...he states that it will take him 3 years to finish medical school and then they would be married, which according to my calculations (and this very fine blog here) it would be 1889. This pile of crap...excuse me...I mean movie, centers around world war 1 (1918) and states they have been engaged for 5 years...however that is incorrect, they would have been engaged for 11 years and judging by both their appearances it looks like it. All of the characters are much older than their characters are supposed to be. Diana (Schuyler Grant) has completely shed any form of baby fat on her face and looks more like Laura Linney than like Diana. Fred has been completely replaced with a new actor. Marilla's dead...yet Rachel is still alive..? Anne and Gilbert look so old they should have grandchildren by now (Yep I said it). It doesn't even feel like Follows is reprising her role as Anne, and every actor isn't speaking in that decadent royal way that I've become so accustomed to. Even crude Josie Pye felt contrived. The film was made in 2000 and it shows, from the dialect to the production value. Everything feels fake; the acting, the storyline, the sets. It's as if we are watching a terrible play. It just doesn't make any sense. Why would you write these characters that we hold near and dear to our hearts and toss them into a very lame story about World War 1. (I'm talking to you Mr Sullivan) Even in the books Anne & Gilbert don't go to war, their CHILDREN do. It makes no sense. The only nice thing about this movie is we get a lot of Anne and Gilbert screen time (Jonathan Crombie is delicious) but it doesn't feel real, it feels terribly fake, even Anne professing her love for Gilbert made me want to turn off the film and watch the last five minutes of Anne of Avonlea, because those five minutes of the last film, have more purity with the acting, production value,...even the fucking score...than "The Continuing Story" will ever have. This isn't even worth a score but since I'm a generous person I'll give it a 1/10
Emily DePetro
A mixed bag but still pretty great.
Sunil Jawahir
Super Reviewer
Anne of Green Gables: The Continuing Story Quotes
There are no approved quotes yet for this movie.