Annie
(1982)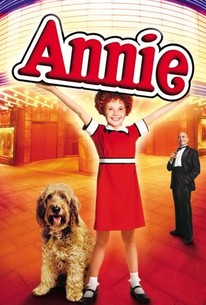 TOMATOMETER
AUDIENCE SCORE
Critic Consensus: John Huston proves an odd choice to direct, miring Annie in a sluggish, stagebound mess of an adaptation, but the kids are cute and the songs are memorable.
Movie Info
This family classic is adapted from the Broadway musical, which was based on the comic strip Little Orphan Annie. During the Great Depression in New York City, a plucky red-haired scrapper named Annie (Aileen Quinn) is the voice of hope for her fellow orphans who live under the supervision of drunken floozy Miss Hannigan (Carol Burnett). Annie's spirit is fueled by the belief that her real parents dropped her off at the orphanage with a half of a locket, promising to return for her with the other half. One day, the dingy orphanage is visited by the sophisticated Grace Farrell (Ann Reinking), personal secretary to conservative politician Oliver Warbucks (Albert Finney). In order to improve his image, Grace brings Annie to the Warbucks estate for a weeklong visit. Annie quickly wins the hearts of servants and politicians alike, eventually even bringing her song of hope, "Tomorrow," to President Roosevelt in Washington. Warbucks and Grace even go so far as to perform a public search for Annie's parents, creating an opportunity for Miss Hannigan, Rooster (Tim Curry), and Lily (Bernadette Peters) to scam their way to the reward money. ~ Andrea LeVasseur, Rovi
People Who Like this movie also like
Audience Reviews for Annie
Delightful, family-friendly film with fun songs and story. Sure, the characters are all caricatures and the film lacks direction and substance, but that's part of the charm. A nice bit of nostalgia made even sweeter by the 2014 re-make disaster.
Christian C
Super Reviewer
½
"Annie" is the epitome of a family film in every way. From it's very catchy musical numbers to it's strong heart shown by it's talented cast, this film will make your heart sing even if you are in a bad mood. This film has some obvious faults, as it does not need to be two hours long and some plot devices seem to be thrown in to push the story along, but all-in-all, I had a blast watching it. For the type of film that it is, it's dialogue and lyrics are all well-written and it is very well-produced. "Annie" is the type of kid that you wish you could have been friends with growing up, due to her sheer likability. "Annie" is one of the most enjoyable musicals I have seen. For anyone ho has not seen it, it definitely earns a recommendation from me.
A childhood favourite and a classic!
Bethany Murphy
Super Reviewer