Leap Year
(2011)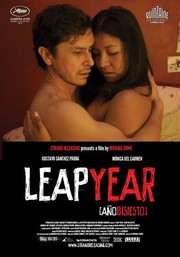 Tickets & Showtimes
Leap Year Trailers & Photos
Movie Info
Laura is 25 years old. She's a journalist, she's single and lives in a small apartment in Mexico City. After a series of short-lived affairs, Laura meets Arturo. After the first time they make love, she is left deeply unsettled. They embark on an intense and passionate sexual relationship, in which pleasure, pain and love merge. As days go by which Laura conscientiously crosses out in a calendar, her secret past resurfaces, pushing Arturo to the limit. -- (C) Strand
more
Cast
News & Interviews for Leap Year
Critic Reviews for Leap Year
Audience Reviews for Leap Year
½
A stark, haunting character study about a young provencal women named Laura, played by Monica del Carmen in a beautiful observed performance, she is tragically believable and surely delivers one of the finest female turns of this year. This disturbing drama explores loneliness and consensual sexual violence, Laura has moved far away from her family for the excitement of life in Mexico City, but in reality she is desperately lonely and alienated with her life, she tells lies to her mother and family over the phone of non-existent friendships, she spends all day in her small empty apartment crossing off dates on her calender, and at night she masturbates while sneaking a look at a young couple in the opposite apartment, she is jealous and envies of their passion for each other, later in the evening she goes out to picks up a variety of low-life strangers at bars to bring home and have casual sex with, so she won't have to sleep alone, her longing for love and self worth are not helped by the strangers she picks up, but her crippling isolation and emptiness is about to end, when she meets an ideal companion named Artuo, played solidly by Gustavo Sanchez Parra who has a penchant for sexual sadism that meshes with Laura's masochistic misery. They embark on a deeply intense sexual relationship, the sex turns into extreme sexual violence, and the acts become more humiliating and brutal, Laura throws herself completely into it, and pushes her capacity for pain, it seems that she has a hidden agenda, she is using Arturo for a darker purpose. A impressive and confident debut from writer/director Michael Rowe that won this year's Camera d 'Or at the Cannes Film Festival. ( In Spanish with subtitles) Note: this is a very tough movie to watch, and it is very sexually explict, so if that make you feel uncomfortable you should avoid it. Recommened.
Año Bisiesto (Leap Year) (Michael Rowe, 2010)

I am willing to admit right up front that some of my problems with this movie come from the fact that I'm really, really uncomfortable with some of the material presented here. When the Netflix description said main character Laura (Babel's Monica del Carmen) gets involved in a sadomasochistic relationship, I figured that was probably the Netflix blurbers' much-storied hyperbole kicking into action, and halfway through the movie, when we get to the kind of butt-smacking that causes women in porn films to exclaim "oh, YEAH!" in THAT voice, I figured my preconceptions were going to be borne out. But oh, how wrong I was, and like I said, I will admit up front that if you are more comfortable with such things, you might find less to criticize here than I did.

But note: I said "might", because the empirical problems with this movie are still there, and they are still mighty.

Plot: Laura is a journalist leading a spectacularly unfulfilling life while keeping up appearances for the folks back home. ("I'm having dinner... I just made steak", she says during a phone conversation to her mother, while scooping beans straight out of the can.) Her love life, in particular, is not giving her anything she needs-it's a series of one-night stands and masturbatory fantasies that leave her no better off than she was before they happened. Until, that is, spurred on by her younger brother (The Ruination of Men's Marco Zapata) finally getting involved in a stable relationship, she decides to go looking for one herself and gets involved with Arturo (Amores Perros' Gustavo Sánchez Parra), who quickly reveals himself to be a brutal, abusive, overly jealous cad of the sort that would have most people fleeing screaming in terror-but Laura seems perfectly fine with it.

It's impossible to watch any sexual-obsession drama from Mexico these days and not compare it to Batalla en el Cielo, Carlos Reygadas' confusing, but accomplished, debut. In short, there is no metric by which you can compare this movie to that one in which this does not fall short. Rowe's faux-cinema-verite camerawork is laughable most of the time, used more as an excuse for crappy lighting and sound more than any artistic pretension (though not to say this movie isn't painfully pretentious). The pace is nonexistent in the first half and glacial in the second, and I say this as a huge fan of such slow-film masters as Ozu, Kieslowski, and Tarr. Simply put, there's nothing here; it's a slice-of-life drama with not enough slice for the S&M fiends and not enough life for anyone else. Half a star because, despite my desperately wanting to, I did not shut it off, persevering to the bitter (and entirely unfulfilling) end. 1/2
Discussion Forum
Discuss Leap Year on our Movie forum!
News & Features