Leap Year (Año bisiesto)
(2011)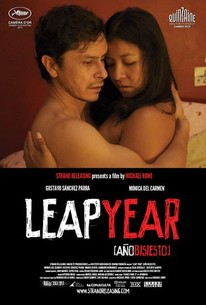 TOMATOMETER
AUDIENCE SCORE
Critic Consensus: Unpredictable, gripping, and ultimately haunting, Leap Year uses a couple's fraught emotional journey as the narrative fuel for a probing look at societal mores and human needs.
Leap Year (Año bisiesto) Photos
Movie Info
Laura is 25 years old. She's a journalist, she's single and lives in a small apartment in Mexico City. After a series of short-lived affairs, Laura meets Arturo. After the first time they make love, she is left deeply unsettled. They embark on an intense and passionate sexual relationship, in which pleasure, pain and love merge. As days go by which Laura conscientiously crosses out in a calendar, her secret past resurfaces, pushing Arturo to the limit. -- (C) Strand
News & Interviews for Leap Year (Año bisiesto)
Critic Reviews for Leap Year (Año bisiesto)
Audience Reviews for Leap Year (Año bisiesto)
½
A deeply disturbing film, of a woman who allows an abusive man to brutalize her for reasons that only become clear to the viewer as the story unfolds. Laura (Monica del Carmen) works as a freelance journalist. Although not blessed with a svelte body or wildly beautiful good looks, she does alright in getting men to come back to her apartment. One of those trysts, with Arturo (Gustavo Sanchez Parro), becomes a twisted, macabre dance. Laura is a woman who carries a lot of pain, and the reasons for her self-degradation are not readily apparent. One only knows it is somehow tied to Leap Day, which she has marked on her calendar. This is not an easy film that could be called light entertainment. It is dark, and delves into some truly disturbing images that one is reluctant at times to watch. It asks the viewer to plumb the depths of one's soul to try to understand the motives at play. The film is relentless in drawing one into the twisted world these two inhabit. What little bit of hope to be found in this comes at the very end, if one can stay with it.
Mark Abell
Super Reviewer
½
A stark, haunting character study about a young provencal women named Laura, played by Monica del Carmen in a beautiful observed performance, she is tragically believable and surely delivers one of the finest female turns of this year. This disturbing drama explores loneliness and consensual sexual violence, Laura has moved far away from her family for the excitement of life in Mexico City, but in reality she is desperately lonely and alienated with her life, she tells lies to her mother and family over the phone of non-existent friendships, she spends all day in her small empty apartment crossing off dates on her calender, and at night she masturbates while sneaking a look at a young couple in the opposite apartment, she is jealous and envies of their passion for each other, later in the evening she goes out to picks up a variety of low-life strangers at bars to bring home and have casual sex with, so she won't have to sleep alone, her longing for love and self worth are not helped by the strangers she picks up, but her crippling isolation and emptiness is about to end, when she meets an ideal companion named Artuo, played solidly by Gustavo Sanchez Parra who has a penchant for sexual sadism that meshes with Laura's masochistic misery. They embark on a deeply intense sexual relationship, the sex turns into extreme sexual violence, and the acts become more humiliating and brutal, Laura throws herself completely into it, and pushes her capacity for pain, it seems that she has a hidden agenda, she is using Arturo for a darker purpose. A impressive and confident debut from writer/director Michael Rowe that won this year's Camera d 'Or at the Cannes Film Festival. ( In Spanish with subtitles) Note: this is a very tough movie to watch, and it is very sexually explict, so if that make you feel uncomfortable you should avoid it. Recommened.
Danny Rovira
Super Reviewer
Leap Year (Año bisiesto) Quotes
There are no approved quotes yet for this movie.