Another Life
(2001)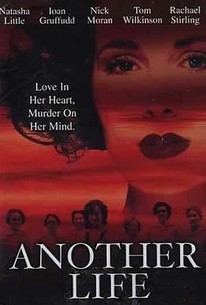 AUDIENCE SCORE
Critic Consensus: No consensus yet.
Movie Info
A scandalous murder case that was the talk of England in the 1920s is brought to the screen in this period drama based on fact. In 1913, Edith Graydon (Natasha Little) was a young woman living with her family -- good-natured father (Michael Bertenshaw), emotionally distant mother (Imelda Staunton), and shy younger sister (Rachael Stirling) -- in a fading middle-class neighborhood in London. While not especially bright or ambitious, Edith wanted more out of life than her family's situation would provide, and with this in mind she accepted the marriage proposal of her boyfriend Percy Thompson (Nick Moran). While Percy was a bit better off than Edith's family, he was not an especially interesting or exciting partner, and after several years Edith began to grow restless with their marriage. Long regarded as something of a flirt, in 1921 Edith renewed her friendship with Freddy Bywaters (Ioan Gruffudd), a good-looking and worldly former beau who had just returned to England after serving in the Queen's Navy. Edith and Freddy were not destined to remain just friends for long, and as they began to enter into a passionate affair, Edith began writing a series of letters to her lover in which she confided her ardor for Freddy, her fatigue with Percy -- and her belief that murdering her husband would solve a great many problems. Shot in 1999, Another Life did not receive a theatrical release until 2001, when it arrived in British theaters and earned enthusiastic reviews for Natasha Little's performance as Edith.
Rating:
NR
Genre:
Directed By:
Written By:
In Theaters:
On DVD:
Runtime:
Studio:
Arts Council of England
Critic Reviews for Another Life
There are no critic reviews yet for Another Life. Keep checking Rotten Tomatoes for updates!
Audience Reviews for Another Life
½
These Are Things to Watch Out For Good basic relationship advice would include never trusting someone whose requirement for staying in a relationship with you is that you kill your spouse. I quite understand the frustration of being in a relationship with someone who can't get out of their previous one, but my suggested solution would be to stay away from people who are already in relationships. However, if you decide you couldn't possibly, you should understand that the separation of your beloved and their significant other will not necessarily go according to your timetable. If you believe fiction, murder rates must change according to divorce laws. This movie presupposes, for example, that both people must agree to a divorce. One person's wanting out isn't enough. There also seems to be the tail end of Victorian morality hanging over the whole thing, because divorce is still seen as something shocking--though not so shocking as murder, one would hope. Edith Jessie Graydon (Natasha Little) came from a large, affectionate family. One day, she married Percy Thompson (Nick Moran), who seemed at first to enjoy the company of the boisterous, spontaneous Edie. But when they were married, he expected her to be a quiet, proper wife. For a while, she suffered through that, though her husband steadily became the most insufferable prig imaginable. It's also strongly implied that he faked a weak heart in order to get out of World War I. After the War, Edie met Frederick Edward Francis Bywaters (Ioan Gruffudd) again; he was a childhood friend of her brother who ended up in the Merchant Marines. And though her sister, Avis (Rachael Stirling), fell for him, Edie ended up having an affair with Fred. Percy caught them and demanded they separate, but they were in love. Fred was at sea for long periods of time, but Edie wrote him many letters. These would later turn out to be remarkably ill-advised, though how factual they were is still anyone's guess. Edie need not have stabbed Percy to be guilty of his murder. If she and Fred conspired in his death, that is enough. The letters were brought up at their trial as proof of conspiracy, though it seems that her claims to have poisoned her husband and fed him glass were probably lies. Certainly the coroner found no evidence of it. Fred never denied having killed Percy, but he denied to the moment of his death (which was simultaneous to hers) that she had anything to do with it. This may well have been an attempt to rescue his love (who may well have been pregnant), but it may well also have been true. The trial seems to have operated on the presumption that adulterers would stop at nothing. That murder was a very short step away. This is obviously insane. But the judge was not a young man and allowed his prejudices to colour the jury. Whether Edie was guilty or innocent, the trial appears to have been flawed, and not in her favour. On the other hand, the movie is biased toward her. For one thing, it completely takes her at her word that she didn't ever actually try to kill her husband. It also makes him into a little weasel who rather deserves it. (Maybe there's just something about the name "Percy.") It encourages you to be sorry that such a vibrant, imaginative woman is stuck with that selfish milksop. Indeed, you know from the moment you see his mother (Elizabeth McKechnie) that things aren't going to go well for her as a member of the Thompson family. And while the judge may have harped a bit much on her adultery, the film seems inclined to excuse it with the joint defenses of "wouldn't you cheat on him?" and "they just got carried away by the moment." Neither of which, to me, work as excuses. The movie also implies it's why Edie got married, which ducks the issue of her six-year engagement to Percy, surely enough time to learn what he's really like, though I acknowledge he might expect a wife to be different from a girlfriend. The life Edie led was not the one she might have expected. Edie Thompson seems to have been a bright, energetic woman. She was acting as a buyer for the store where she worked, going on regular trips to Paris. Fred Bywaters was nine years her junior and perhaps not the best she could have done, though Gods know the matrimonial prospects had been dimmed for a lot of women by the war. Meaning that someone would have taken even the Percy we see in this movie, no doubt. A lot was changing during the years between when Edie Graydon married Percy Thompson and when she was hanged for his murder. Perhaps if more of the people involved in the trial had been of Edie's own generation instead of her mother's, her sentence might have been commuted to life imprisonment--or she might have been found not guilty. However, all of that must remain mere speculation; the records of the case will be sealed for another decade. And even then, it's still in the realm of what might have been.
Edith Nelson
Another Life Quotes
There are no approved quotes yet for this movie.