Ant-Man and the Wasp
(2018)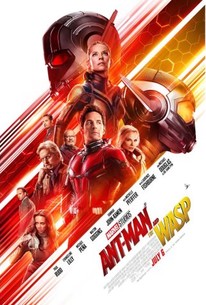 TOMATOMETER
AUDIENCE SCORE
Critic Consensus: A lighter, brighter superhero movie powered by the effortless charisma of Paul Rudd and Evangeline Lilly, Ant-Man and The Wasp offers a much-needed MCU palate cleanser.
Ant-Man and the Wasp Videos
Ant-Man and the Wasp Photos
Movie Info
From the Marvel Cinematic Universe comes a new chapter featuring heroes with the astonishing ability to shrink: "Ant-Man and The Wasp." In the aftermath of "Captain America: Civil War," Scott Lang (Rudd) grapples with the consequences of his choices as both a Super Hero and a father. As he struggles to rebalance his home life with his responsibilities as Ant-Man, he's confronted by Hope van Dyne (Lilly) and Dr. Hank Pym (Douglas) with an urgent new mission. Scott must once again put on the suit and learn to fight alongside The Wasp as the team works together to uncover secrets from their past.
News & Interviews for Ant-Man and the Wasp
Critic Reviews for Ant-Man and the Wasp
Audience Reviews for Ant-Man and the Wasp
One thing I realized just before writing this is that Ant-Man and the Wasp is the TWENTIETH film in the 10-years-long-and-counting Marvel Cinematic Universe. Like Avengers: Infinity War, this serves as a slap in the face reminding me how far along this once small franchise has become. Additionally, I'd like to apologize for taking so long to write this review: I saw the film last Tuesday but never found the hour I needed to get it done. However, I realized that this was a bit of a blessing in disguise. Letting the film sink in for a week has allowed me to think about it a little bit more and develop a very personal opinion on the film instead of one influenced by the excitement surrounding its release. I only wish the same thing had happened with Star Wars: The Last Jedi... I gave it 4 stars the night I saw the film, and now would barely give it 2 stars. Don't worry, my opinion of Ant-Man and the Wasp did not degrade THAT much, but I did realize many of the weaknesses and flaws that held the film back. Ant-Man and the Wasp is a sequel to the surprise 2015 hit Ant-Man starring Paul Rudd as the titular character. Rudd returns to this film as Scott Lang a.k.a. Ant-Man and is joined by a wealth of cast members also returning from the first film. Evangeline Lilly portrays Hope van Dyne a.k.a. the Wasp, the badass former girlfriend of Lang who uses a suit that can shrink, fly, and fire blaster shots. Michael Douglas portrays Hank Pym, Hope's father and Lang's mentor, who possesses an intellect that outmatches even Tony Stark's. Lang's former crew of thieves (who now own a small security business) returns, portrayed by Michael Peña, T.I., and David Dastmalchian. The new characters here include Ghost (portrayed by Hannah John-Kamen), a reality-phasing woman who gained her powers after an encounter with the Quantum Realm; Bill Foster (portrayed by Laurence Fishburne), a former colleague of Pym's; Sonny Burch (portrayed by Walton Goggins), a black-market dealer; and Janet van Dyne (portrayed by Michelle Pfeiffer), Pym's wife who was lost long ago in the Quantum Realm. One of the most common criticisms I've heard regarding Ant-Man and the Wasp is that the film has weak villains, keeping with the general trend set by early films of the MCU. This is one gripe that I disagree with. The film has two villains: Ghost, who is less of a villain and more of a misunderstood, determined young woman, and Sonny Burch, a run-of-the-mill black-market dealer who is constantly getting in the way of things. The first "villain," Ghost, was a great character. Her motivation for hindering the progress of our heroes was simple: she was close to dying and needed Pym technology to save her life. Her character kept up with the trend set by recent MCU villains like Thanos, Vulture, and Killmonger: in her eyes, she was doing what she thought was necessary to get what she wanted/needed, in this case her own life. The second villain, Sonny Burch, is by no means a great villain, please don't think I think that. Rather, the film's writing seemed totally self-aware of his blandness and annoying habit of showing up when it was inconvenient. As a result, most of his lines and appearances are played purely for comedy, which I thought was brilliant. So instead of two "meh" villains, Ant-Man and the Wasp features a driven female character trying to save her life and an object for comedy. My biggest issue with Ant-Man and the Wasp comes in a separate aspect of its writing... several, actually. First of all, the inaccuracy of the physics behind the powers of Ant-Man and the Wasp continues to bother me. An object is going to retain its mass no matter how big or small it is. In other words, when Ant-Man gets tiny, he should become a tiny 160-pound weight. And when he gets huge, he should be nothing more than an unsteady pile of cardboard boxes. Of course, at the end of the day, this is a comic book movie, so if these are the powers of the characters as they appear in Marvel Comics, then I'll get over it. I'm not going to dock the film points for that. The real issues come from the film's two focuses: Hank Pym's lost wife, Janet van Dyne, and the place she is stranded in, the Quantum Realm. Again, this is a comic book movie, so I don't expect an explanation of the Quantum Realm that abides by real-world physical concepts. But the film never makes a clear explanation of what this place is or how it works or the rules that it abides by. The script alludes to some of this, but it is never consistent enough to satisfy me. This was frustrating, especially since many of the Avengers 4 rumors suggest our heroes will be time-traveling using the Quantum Realm. This is a great idea, but that film needs to give the concept a more clear and consistent base. Ant-Man and the Wasp does NOT have this base. This contributes to the climax that the film builds to lacking any sort of tension or urgency. This also contributes to the underwhelming presence of Michelle Pfeiffer as Janet. She is hardly in the film even though the advertising materials feature her prominently, and there are things about her character that suffer from the same lack of explanation I've already discussed. I can't go into details because of spoilers, so I'll leave it at that. I feel like I've bagged on Ant-Man and the Wasp a little bit harder than I intended. The film has lots of flaws, but it is overall a fun time and has the light tone and comedy you would expect from an Ant-Man sequel. The film is funny, the action sequences are creative and exciting, and I imagine most people will generally find themselves smiling in the film. This could be from the comedy, the lightheartedness, or even just the adorable relationship that Scott Lang has with his daughter in the film. As a whole, I really enjoyed the film. Most of the problems with it become evident when you step back and take a look at the writing. To summarize, Ant-Man and the Wasp serves as another worthy addition to the Marvel Cinematic Universe while not holding up as well as its predecessor. It's enjoyable once you look past the writing and I'm sure I'll watch it again after it comes out on Blu-Ray. Ant-Man and the Wasp gets 3 out of 5 stars. P.S. - Stick around for the mid-credits scene, it will not disappoint.
Paul Fuchs
Super Reviewer
Great fun big laughs and great special effects, one of my favorite of the summer! 07-15-2018
Christopher Oakley
Super Reviewer
The sequel to Marvel's smallest hero's first adventure sticks to the successful formula: lovable characters, plenty of jokes and a lot of great ideas about shrinking (and now growing) things. While you gotta ignore scientific aspects of the adventure, the pace of the plot and the fantastic action pieces make for a thoroughly entertaining and fun ride. San Francisco has never looked better. Faster, bigger and funnier than the first film, giving everyone a great time for two hours. At least until the post credits scenes connect the film with Infinity War. Avengers 4 can't come soon enough.
Ant-Man and the Wasp Quotes
There are no approved quotes yet for this movie.