Antisocial
(2013)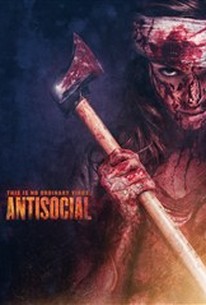 Movie Info
Five university friends gather at a house party to ring in the New Year. Unbeknownst to them, an epidemic has erupted outside, causing outbreaks around the world. With nowhere else to turn, they barricade themselves indoors with only their phones, laptops, and other tech devices. They use their devices to research the possible cause of this outbreak. Information and video footage over flow their computers as they descend further into the cause and the ensuing chaos. As the virus spreads, the mood in the house changes from fear to paranoia. Who is safe? Who can they trust? Reality becomes blurred as they slowly discover the source of the virus causing the sickness...and there is no going back.
Rating:
R
Genre:
Directed By:
Written By:
On DVD:
Runtime:
Studio:
Critic Reviews for Antisocial
Audience Reviews for Antisocial
Antisocial is a TERRIBLE movie it sucks the plot about Twitter zombies and tumors makes no sense, the characters are boring and you can tell who's going to die next every step through
Jacob Gross
If Pulse got together with 28 Days Later and gave birth to a TV show and that TV show was *terrible*, Antisocial would be the Bottle Episode of that show.
I though it was a cool idea for a movie but i wanted a different execution, Tara just though it was heavy handed bullshit, she gets it social media is killing us, will kill us has killed us, someone really need to come up with something new is what she thinks. The opening and ending were cool and it was fast paced but i just wasn't getting sucked in to the story. There wasn't a ton of character development or back story so we weren't all that upset when someone died because we didn't feel a connection. The two main characters are fucking awful. The gay guy was cool though. The movie was a bit uneven overall, some was fast but some parts crawled along. Though the box cover does come into play which is cool because it doesn't happen often anymore.
Dwayne Young
Antisocial Quotes
There are no approved quotes yet for this movie.