The Grim Reaper
(1980)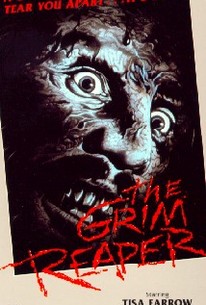 AUDIENCE SCORE
Critic Consensus: No consensus yet.
Movie Info
In this Z-grade Italian "gorror" movie, an American student and her friends go on a tour of the Greek islands and find themselves victimized and eaten by a disfigured psychotic cannibal who thinks that eating the flesh of strangers will help him atone for eating his own family after they were shipwrecked. Italian shlockmeister Joe D'Amato directed this yummy bit of fun.
Rating:
R
Genre:
,
Directed By:
Written By:
In Theaters:
On DVD:
Runtime:
Studio:
Filmirage
Audience Reviews for The Grim Reaper
Joe D'Amato's notorious video nasty. Didn't make much sense, only served its sole purpose of shocking the audience with lots and lots of gore. Some of the scenes were remarkable considering it's low budget. But watching this film really tires me out with it's horrible horrible soundtrack, over synthesized score nearly killed me. Do not consume anything while watching this.
Sylvester Kuo
Super Reviewer
½
Notorious Italian nasty, made infamous due to a couple of gross scenes of gore during the last 25 minutes of the movie... and they really were the only two points of interest for me. The movie plods along slowly, despite the atmospheric location and the occassional creepy vibe most of the film came off a bit boring to me. The gory moments were too few and far between but I enjoyed what was served up - there aren't too many fetus eating moments in the depraved world of the horror film so gorehounds savor those moments when they turn up.
½
D'Amato's horror film is notorious from its placement on the UK's video nasties list, and certain scenes in it do push the viewer into the outer reaches of stomach churning disgust. The film also has a reputation as one of the worst films on the list, with accusations that it is boring, inconsequential, absurd. It doesn't even seem to be popular amongst D'Amato aficionados. Yet it's a striking work - full of atmospheric tension, horrific visions and the caustic misanthropy about contemporary society which was D'Amato's stock-in-trade. The film begins in the luxurious setting of a Greek island, where a couple of German tourists - swim-wear clad and equipped with the mod-con accoutrements of the early 1980s - are sunbathing and swimming only to be attacked and murdered by a mysterious figure. This offers a prologue to the main action, in which the same attacker menaces a larger group of Italian tourists who are island hopping and who happen to stop on the killer's island because they've picked up a boat-hiker who is going to be working there as the companion of a blind girl. As usually happens in a stalk-and-slash film, the killer - a giant cannibal played by regular D'Amato collaborator George Eastman (who also scripted) - picks the tourists off one by one and murders by munching into their necks and chomping on their flesh. The tourists are a typical bunch of middle-class twenty-somethings, concerned with sightseeing, their relationships and grabbing some sun. One of the party happens to have an interest in Tarot cards, and she reads those of one of her companions, a pregnant woman. Unhappily, she sees nothing in the cards, which she takes to suggest that the querent has "no future." This prophecy has an echo of the Sex Pistols' corrosive refrain in their God Save the Queen, a song which predicts the same "No Future" for English consumer society of roughly the same era. And like the Pistols' great anti-Monarchist song, D'Amato's film identifies the cause of no future as coming from those at the top of the social pile. We discover that the cannibal is a scion of a wealthy merchant family, who live in what looks like a typical mercantile, colonial mansion on the Island. This fellow has been involved in a shipwreck, and found himself forced to squabble with his wife in a lifeboat over the body of their son, whose carcass was now the only meat they had. The wife objected, and the man stabbed her in a desperate struggle for survival, after which he seems to have developed a taste for human meat which he satisfies on his murderous spree. But there's something about the scene in the lifeboat which is emblematic of the struggle for survival, the Darwinian survival of the fittest which Capitalism foists on us all. In encountering the cannibal, the tourists are encountering the truth about the system which allows them to afford such luxurious holidays in the first place. D'Amato emphasises this sense of characters encountering the truth about themselves through their encounter with the cannibal by a series of shots in which they see themselves reflected shortly before seeing him. The German tourist sees himself reflected in the cannibals knife, the first dead Italian confronts a mirror shortly before death and later the boat-hiker has to smash a huge mirror in which she is reflected in order to find her way into his lair and discover his secrets. The cannibal, as in Sondheim's contemporaneous 1980 Broadway musical Sweeney Todd (later filmed by Tim Burton) is a ideal image of a Capitalistic society in which man devours man, a rampage of anthropophagy which ends here with the cannibal literally chewing on his own entrails, a self-devouring monster. The film's most infamous scene depicts the fate of the pregnant woman, whose unborn baby is ripped from her by the cannibal and the foetus devoured, fresh from the womb. There can be no more visceral an image of a child born into the world of No Future than this, yet those who see it as mere unnecessary nastiness on D'Amato's part might reflect that it has a partial real life analogy in the treatment meted out to Sharon Tate's unborn child in the Manson gang murders as well as a rather more classical forebear in the famous Goya painting of Cronos devouring his child (in D'Amato's film, the father looks on as his child is eaten by the cannibal, but if the mirror analogy holds, he is looking at an image of himself). Often in D'Amato's films, white Europeans are seen as cursed with a culture which is deadly, cannibalising and exploitative. In setting Anthropophagus on a Greek Island, D'Amato traces that cannibalistic tendency back to its source in the classical civilisation of the Greeks, here stripped of its Romantic, idealized associations and seen as a devouring demon - a Minotaur in its island lair, feasting upon the young who are delivered by ship for sacrifice.
Cassandra Maples
Super Reviewer
The Grim Reaper Quotes
There are no approved quotes yet for this movie.
Discussion Forum
Discuss The Grim Reaper on our Movie forum!