Anuvahood
(2011)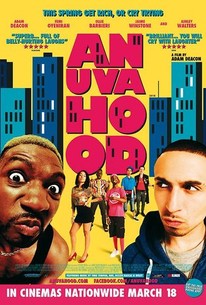 Movie Info
Meet Kenneth. He thinks he's got the moves. He thinks he's got swagger. He thinks he can spit bars. But in reality, he's a WASTEMAN! With the bailiffs banging on the door, parents screaming in his ear, and finding no luck with the ladies, he needs to FIX UP, and fast. When our boy starts selling weed to get himself out of trouble, local badman Tyrone is VEX, opening up a world of hurt for Kenneth and his misfit crew. But he ain't gonna go down without a fight. It's time for him to get rich, or CRY TRYING! From the mind of Adam Deacon comes the UK's first HILARIOUS urban comedy, with a BIG cast including Femi Oyeniran, Jaime Winstone, Ollie Barbieri, Richard Blackwood & Ashley Walters, and featuring hot tunes from Tinie Tempah, Boy Better Know, Wiley and Dizzee Rascal. This ain't just any hood, it's ANUVAHOOD!
Critic Reviews for Anuvahood
Audience Reviews for Anuvahood
Really funny and brilliant film enjoyed all of it, Way better than I expected when I first heard they were making this film.
Jamie Clarke
Super Reviewer
Feel the pain! Kenneth is a down on his luck young adult who was recently fired from his job at a department store. The loss of income may cause his family to get evicted. He tries to make ends meet by making rap mixed tapes and selling weed. Just as things start looking up, a local bully comes and steals all of his weed and leaves him with nothing. Can Kenneth make ends meet or will his family fall apart? "The pigs are on my dick like a fucking rash." Adam Deacon delivers Anuvahood in his lone directorial project. The storyline for this picture is actually pretty fun to watch unfold and reminded me of a European Friday (Ice Cube and Chris Tucker). I thought the script was equally as clever and the soundtrack was outstanding. The interactions between characters were also pretty good and the acting was better than I anticipated. The cast includes Adam Deacon, Femi Oyeniran, Ollie Barbieri, Paul Kaye, Richie Campbell, Ashley Walters, and Terry Stone. "Stop humping my counter, please." I found this movie on Netflix and thought the plot sounded interesting. I am really surprised this movie received such poor reviews. I felt the picture was fairly clever and well done and I loved how it unfolded. This is a comedy with a fantastic script, soundtrack, and characters. This is definitely worth a viewing and is borderline worth adding to your DVD collection. "I always go hard!" Grade: B
Kevin Robbins
½
What did I just watch? That was plain weird. It was like "Friday" without the humor, and the actors on speed & crack. Phew! There were a number of lines that just flew by... whether UK slang, accented, or just plain spoken to fast... and there wasn't much plot anyway. There's just not much to like here. The main character is a real loser, the WAY over-the-top bully is ridiculous and unbelievable, and the whole "pay the rent or else" schtick is soooo old. Even the visiting Enrique is a stereotype shell of a character who smiles handsomely at everything as if he's 7 years old. Too serious for comedy, too simple for drama, too weird for US audiences. Skip it or be VEX.
Sums ItUp
Anuvahood Quotes
| | |
| --- | --- |
| Enrique: | its my journal |
| Enrique: | It's my journal. |
| | |
| --- | --- |
| Kenneth: | my name is k blud not keenneth. |
| Kenneth: | My name is K Blood, not Kenneth. |
| | |
| --- | --- |
| Kenneth: | Wha' you mean you run out of Fruitellas man? |
| Shopkeeper: | Why do you want bloody Prutella?! |
| Kenneth: | It's a badman sweet, you get me? |
Discussion Forum
Discuss Anuvahood on our Movie forum!