Standard Time (Anything But Love)
(2002)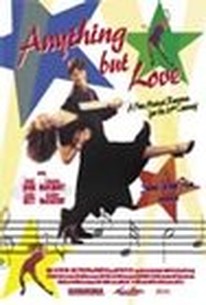 Movie Info
A corporate lawyer is caught in a love triangle with an ambitious cabaret singer.
Rating:
PG-13 (for some language and innuendo)
Genre:
, ,
Directed By:
Written By:
In Theaters:
On DVD:
Box Office:
$58,739.00
Runtime:
Studio:
Critic Reviews for Standard Time (Anything But Love)
Audience Reviews for Standard Time (Anything But Love)
Don't watch this movie. Seriously. Its a waste of 99 minutes of your life! This is one of the worst acted/directed/produced "movies" ... though I hesitate to call it that.... I have ever seen. To even compare it to classic movies from the '50s is blasphemous. This is simiply pure, unadulterated crap.
Kate Caldwell
½
Anything But Love is a rather lame romantic comedy that tries to be unique but instead falls into almost every romantic comedy cliche trap that you can think of. The plot involves a young girl trying to make it as a cabaret singer in modern day New York. The girl comes from a working class family and sings in a cheesy airport hotel lounge but dreams of making it big. The film mixes romance (your typically love triangle plot) with retro 1950s technocolor musical numbers with little effect. Visually its kind of an interesting movie and you can respect a director that is trying to do something different with the genre but in the end the film just didn't work for me.
John Chandler
I knew absolutely nothing about this film, and unfortunately I didn't bother to check it out. I was invited to a free screener and I went. It was torture. I don't see how I made it through. I was going to write a lengthy review, but why bother? This won't even open in most cities anyway. It's that bad. So this will be more like a rant. I would have left the theater had I not been sitting in the middle, blocked in from both sides. I also wasn't alone, so the choice on whether to stay or go wasn't entirely up to me. The acting was some of the worst I have ever seen. It starred Andrew McCarthy. Anyone remember him? I never thought I would breath these words, but I preferred him in Mannequin. I expected low budget, but the audio of this movie sounded like it was taped off a walkie talkie. It was horrendous, and this movie was supposed to be about music .. Speaking of music, did they have to sing the same song 5 times? Seriously, I counted. The same song, Anything But Love, 5 times. If that wasn't bad enough, they played When the Saints Marching In 3 times. The lead actresses voice was not bad, and would have been better with the proper audio handling, but by the end I just wanted to smack her. There were no surprises. I knew the entire plot of the film after watching 5 minutes. Serious, and I was exactly right. Everything was so cliche. Do not waste your time, money, or anything on this movie. Don't even think about the film, or check it out on IMDB. It isn't worth even a second of your time. Technically this is a 2003 release, since it had a limited run in December. Sounds good to me. This, my friends, is the worst film of 2003, and possibly the worst ever. I'll have to give Battlefield Earth another viewing. I hope your evening went better.
Aaron West
Standard Time (Anything But Love) Quotes
There are no approved quotes yet for this movie.