Apache
(1954)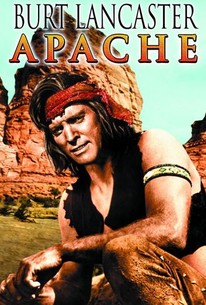 Movie Info
Apache was based on Paul I. Wellman's novel Broncho Apache, which in turn was inspired by a true story. Burt Lancaster plays Massai, a lieutenant of the great Apache warrior Geronimo (here depicted as an old man, played by Monte Blue). Though his tribe has signed surrender terms with the conquering whites, Massai refuses to do so. He escapes from a prison train and conducts a one-man war against the white intruders-and against some of his own people. Along the way, he claims Nalinle (Jean Peters), whom he previously regarded as a traitor to his cause, as his wife. John McIntire plays famed Indian scout Al Sieber, who-in this film, if not in real life-is sympathetic to the Indians' plight and Massai's single-purposed cause. The real-life counterpart to Massai was killed by Sieber's minions after agreeing to call off the hostilies; United Artists objected to this, forcing producer/star Burt Lancaster to shoot an unconvincingly happy ending.
Rating:
G
Genre:
,
Directed By:
Written By:
In Theaters:
On DVD:
Runtime:
Studio:
MGM Home Entertainment
Critic Reviews for Apache
Audience Reviews for Apache
½
Maybe the Original Ending Would Have Helped? In 1954, it wasn't quite so ludicrous to cast Burt Lancaster as your Apache hero. (At least Johnny Depp believes he has some Creek or Cherokee ancestry; Burt Lancaster was nothing but English and Irish.) The idea that maybe you shouldn't cast someone with piercing blue eyes and just slather brown makeup all over him had not yet become a commonplace, and all sorts of ridiculous people got cast as Indians in those days. The semi-villainous Hondo is played, after all, by a young man credited as Charles Buchinsky, though that isn't the name by which anyone knows him today. And heck, even Boris Karloff once played Guyasuta, Chief of the Senecas. And, notoriously, there was the movie where Donna Reed played Sacagawea, only she was called "Janey" throughout the movie, a much more appropriate name for her. And the most famous movie Indian of the time, Iron Eyes Cody, was really Sicilian. Lancaster stars here as Massai, an actual historical figure. He was one of the last of the Apache who fought alongside Geronimo (Monte Blue) to be rounded up. He and Massai and the others were to be sent on a train to a prisoner of war camp in Florida, where they would presumably be no more threat. However, Massai managed to jump off the train around about St. Louis, and he made his way back home to New Mexico. Unfortunately, he's only been there for a few hours when he's turned in to the army. He escapes again, kidnaps Nalinle (Jean Peters), and heads off into the hills. He and Nalinle had been together before he was arrested the first time. Now, her father, Santos (Paul Guilfoyle), is the one who betrayed him, and he takes Nalinle to pay Santos back. He blames her some, too, in part because he believes that she is planning to marry Hondo, and he considers Hondo to be a sign of everything that's wrong with the Apache. They have to change, but not into that. I really got tired of the whole "woman's place" thing. Yeah, okay, 1954. There was a lot of that in white society. However, I'm not sure men's work and women's work was so segregated as that in every tribe, and I do know that this movie assumes a lot more commonality among tribes than really existed. And even if the Apache considered things like hauling wood and water to be exclusively women's work, well, that doesn't mean they have to remind us of it every few minutes. It was almost as though they were emphasizing it because they wanted to remind us that Massai, for all his struggles against the White Man, wasn't so different as all that. He had the same values, right? Except the values he espouses are so ridiculously outdated that it undermines the "Native Americans [or 'Indians,' because of when this movie was made] are like us" bit for me. I do also know that the movie is set more than a hundred years ago, and that means that the attitudes were even less outdated then, but still. There is also the scene with the Cherokee, Clagg (Ian MacDonald). He tells Massai that in order to survive, the Apache must imitate the White Man. The Cherokee know a thing or two about the White Man, all things considered. Unfortunately, the Cherokee did what they thought would make the White Man see them as equals, and it didn't work. They developed their own written language. They built houses and farms. They even kept black slaves, the history of which isn't pleasant and is almost never told. And it didn't matter; there was a gold rush on their land, and they were driven out. Corn, and the agriculture it represents, may well lead to a better life for the Apache. Certainly it's better than relying on handouts from the government that basically wants them dead. It isn't right that the Apache could be forced to live a way of life other than their own, but right and wrong had pretty much gone by the wayside well before we got to the point where Massai was hiding out in the mountains with a sack of corn. I do a lot of speculating about revisionist Westerns and their meanings, and I think this is a kind of a proto-revisionist Western. I mean, there is a sympathy to the history of the Apache and the Cherokee, a thought that perhaps things weren't quite the way they should have been. This is more than we get out of most Westerns of the era. Other Westerns were still just indiscriminately slaughtering Indians in portrayals of the cavalry and so forth. No, Massai can't have the life he wants to, but of course the movie does remind us that the Apache weren't a completely peaceful people. He doesn't necessarily want to live a peaceful life. He forces himself to accept that farming might not just be women's work, which I think probably stems from the gathering end of a hunter-gatherer culture. Some Apache farmed, but the Chiricahua weren't as into it. They were more about gathering than agriculture. Still, it means Massai didn't have to learn from the Cherokee, because the Navajo were right there.
Edith Nelson
½
This is a horrible western. First of all, are we really supposed to believe that Lancaster is a Native American? It's too obvious he's not. Second, the story is wandering. Lastly, don't waste your time.
Great film. Well acted despite the cheesy 'blacking up'. Typical western in every other respect.
Barry Lappin
Super Reviewer
Apache Quotes
There are no approved quotes yet for this movie.
Discussion Forum
Discuss Apache on our Movie forum!