Apenas o Fim
(2008)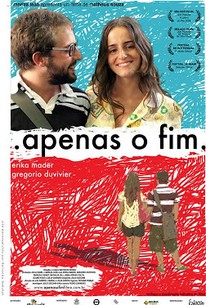 AUDIENCE SCORE
Critic Consensus: No consensus yet.
Movie Info
Girl decides to leave her boyfriend and to runaway to an unknown place. Before she leaves, she decides to meet up with him, but they have only one hour to make a very funny balance of their lives.
Rating:
NR
Genre:
, ,
Directed By:
Critic Reviews for Apenas o Fim
There are no critic reviews yet for Apenas o Fim. Keep checking Rotten Tomatoes for updates!
Audience Reviews for Apenas o Fim
I am a sucker for this kind of film: low-budget, experimental, about the end of a relationship - the first case of a Brazilian indie production to make it to national distribution. Funny and delightful, it benefits mostly from the spontaneous performances by its main leads, who display a great chemistry together.
Carlos Magalhães
Super Reviewer
½
Apenas o Fim is great! the best of the new cinema in Brazil. Winner of the Festival of Cinema in Rio.
Lucas Martins
Super Reviewer
O sentimento é de desolação. Assistir a .Apenas o fim. provoca na gente uma coisa estranha, um estômago que desvira ou alguma força maior que nos deixa reflexivos, olhando automaticamente para o chão, a cabeça baixa e os passos contados um a um até o destino final. Isso graças ao roteiro e à condução da história, que, escrita e dirigida por Matheus Souza, faz com que uma hora e vinte minutos de projeção passem em um dia ? o último ? na vida de um casal universitário. O status quo de Ele(Gregório Duviver), será abalado profundamente quando Ela (Érika Mader), depois de quatro meses de namoro, chega um dia dizendo que vai fugir e que só tem uma hora para o último encontro do casal. Ela quer mudar tudo, não está satisfeita com o que vive, se julga estranha, e não espera encontrar a felicidade no lugar para onde vai. Assim mesmo ela quer ir. Ele acha que isso é covardia. São um casal estranho, ele com os óculos do avô e camisetas do Star Wars, ela com uma beleza delineada pelas roupas de verão. Ele com o all-star verde. Ela, com o vermelho. Durante toda a projeção acompanhamos os diálogos deles durante essa uma hora. Entre as cenas, vemos momentos mais íntimos do casal, passados na casa dele, entre leituras da revista Bravo! e controles de playstation. Ele é da Sony. Ela, da Nintendo. A presença dos atores é fundamental para segurar o espectador na cadeira da sala de cinema. E, aqui, o roteiro favorece o lado de Ele. Ela é pontuada como a causadora de intriga, uma vez que vai abandonar o relacionamento aparentemente feliz (mesmo com Ela dizendo o contrário, vemos em memórias, olhares e na lágrima escorrida que ela nem sempre diz a verdade e que, provavelmente, a fuga tenha outras causas que desconhecemos). Ele quer mantê-la junta, mas não o faz de modo dramático. Pelo contrário, quando chorar é inevitável, ele se tranca no banheiro. Ele em preto e branco. Ela, em cores. Entremeados por tomadas, atuações e falas metalingustica - interessantes, mas não necessariamente marcantes quanto as tiradas de referência pop de uma geração que nasceu no fim dos anos 80-, o filme faz com que nos apaixonemos pelo casal, desejando realmente que terminem juntos, no tradicional happy end que, ausente da narrativa, nos deixará inquietos e nos fará pensar no filme por horas e horas. Em momentos, se deseja o clichê e já batido desenrolar dos fatos a ter que suportar uma separação brusca, cuja explicação não nos esclarece em nenhum momento. Por que eles têm de se separar se está claro que foram feitos um para o outro? A morte cinematográfica não vem, nem a explosão do carro que separaria o espírito de um e a carne de outro, à estilo de Ghost, citado por um dos personagens. Ele fala de amor. Ela acha que é clichê. Ele acha clichê falar que falar de amor é clichê. Ele tem as melhores tiradas. Ela, tira das melhores tiradas dele. Aí vem a desolação, que chega de mansinho e se instala quando sobem os créditos. Aí não tem mais jeito. Tudo é rápido, seco e sem volta. Ele não consegue evitar. Só pede o direito de vê-la partir, indo embora de costas. Ela lhe dá um pacotinho cujo conteúdo ficará restrito eternamente ao casal. E o filme chega ao ápice, na conclusão que aprendemos, mas que nosso coração insiste em não aceitar facilmente. Isto é só o fim. As pessoas tendem a achar que o fim é grande, épico, um drama hollywoodiano. Mas o fim é o fim. Um ponto final. ?Ou você achou que seria para sempre??, ela questiona. O que importa realmente, o que fica ? ou deveria ficar ?, é tudo o que vivemos junto ao outro, os momentos felizes, os nem tanto assim, as alegrias, risos e memórias, toda a vida que passou e foi bem vivida. Eles foram felizes, viveram momentos felizes, mas agora é o fim. Apenas o fim. Para ele e para ela.
Pedro Santos
Apenas o Fim Quotes
There are no approved quotes yet for this movie.
Discussion Forum
Discuss Apenas o Fim on our Movie forum!