Apocalypse and the Beauty Queen
(2005)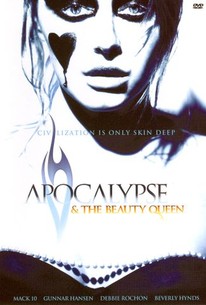 AUDIENCE SCORE
Critic Consensus: No consensus yet.
Apocalypse and the Beauty Queen Videos
Apocalypse and the Beauty Queen Photos
Movie Info
Thomas Smugala helms the direct-to-video drama Apocalypse and the Beauty Queen. The film concerns 26-year-old cover girl Amber, who absconds from Manhattan when her age yields a devastating rejection from modeling. After she flees to a small town, the titular apocalypse occurs and destroys the country. Amber relies on her cunning and ingenuity to band the locals together, and helps them collect supplies and ammunition and stockpile food, but suddenly the power goes to her head and threatens to spin severely out of control. Meanwhile, a friend slyly and viciously manipulates the people of the community through Amber; then a guard falls in love with one of the underlings and brings Amber's authority and control to an end. The film co-stars horror icon Gunnar Hansen (Leatherface in The Texas Chainsaw Massacre).
Critic Reviews for Apocalypse and the Beauty Queen
There are no critic reviews yet for Apocalypse and the Beauty Queen. Keep checking Rotten Tomatoes for updates!
Audience Reviews for Apocalypse and the Beauty Queen
½
When you think of a train wreck this movie is the epitome of knowing I should have the good sense to look away, but I just cant! The story was strewn together without even an attempt at coherency. The acting was ... well... bad. It almost had a plot, but it was muddied with poorly shot softcore porn and hooribly interwoven scenes with nothing to do with each other. I think I just kept watching because ... no I have no idea why I kept watching it...damn. ACTING = ** STORY = * PLOT = ** EFFECTS = ** OVERALL = ** * = YOU DIDNT EVEN TRY - SUCKTASTIC - HATED IT ** = YOU TRIED, BUT DIDNT QUITE MAKE IT - DIDNT LIKE IT *** = AVERAGE - TOLERATED IT **** = GOOD JOB! YOU REALLY TRIED! - I LIKED IT ***** = YOU ARE FREAKIN' AWESOME! - I LOVED IT
Jhary OConnel
This has been in my q for a while, so I finally used the Watch it Now feature to check it out. I had read the other reviews before watching, so was totally prepared to hate this movie. I didn't hate it and I didn't particularily love it either, so going with a Like It. For what this movie is trying to be, it did an excellent job. It was realistic in as far as the setting-(i'm not sure why everyone keeps referring to a junk yard? it was more like a small rural town) and they didn't play it up with the special effects-because there is no electricity/cars/etc anymore-so why would it have those things? The acting could be considered a little cheesy at times, but much what you would expect from young actors. And as far as the characters, remember that we are watching a movie that has the actors surviving an end of the world event-so of course the characters are going to be a little messed up in the head, the end of the world just happened and these people are learning how to survive in it. So if you want low budget realistic gem, check out this movie. If you want supurb end of the world plot and effects, check out the tv show Jeremiah for similar story.
danela higgins
Appallingly bad, at times it's hard to grasp it being so bad. The acting is among the worst I have ever seen. Cheaply made, unimaginative, campy in a bad way, ridiculous story, just horrible. I am stunned it actually got made.
James Higgins
Apocalypse and the Beauty Queen Quotes
There are no approved quotes yet for this movie.
Discussion Forum
Discuss Apocalypse and the Beauty Queen on our Movie forum!