Apollo 11: A Night To Remember
(2006)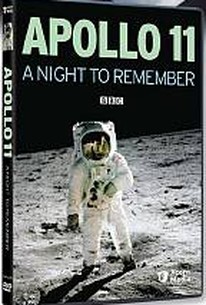 AUDIENCE SCORE
Critic Consensus: No consensus yet.
Movie Info
Astronomer Sir Patrick Moore presents rare archival footage of the first moon landing in this compilation of BBC coverage of the historic event. Watch as the Apollo 11 ascends to the heavens, see the astronauts' first, dramatic moonwalk, and witness the splashdown that brought the brave space explorers safely back to Earth. Intercut with the vintage live reports are the comments of BBC science reporter James Burke, who offers a detailed guide to space exploration by demonstrating the zero-gravity experience, testing an escape chute, and revealing how astronauts relieve themselves while wearing bulky space suits. ~ Jason Buchanan, Rovi
Rating:
NR
Genre:
, ,
On DVD:
Runtime:
Critic Reviews for Apollo 11: A Night To Remember
There are no critic reviews yet for Apollo 11: A Night To Remember. Keep checking Rotten Tomatoes for updates!
Audience Reviews for Apollo 11: A Night To Remember
½
Apollo Coverage: The BBC Version You know, I've already been grumbling lately about how screwed up the site's database can be. It's hard to find this out, because the search function is lousy, but the site doesn't appear to want to let you review [i]Life[/i], the documentary miniseries. (This was disappointing at least in part because it meant I couldn't share Gwen's hypothesis that Oprah Winfrey is Mom from [i]Futurama[/i], so I'll just share that now.) You have to go into "browse," look at each individual entry under the title, and discover that, no, none of them are the one you want. This is insane. Then, I was amazed to discover this in here. I mean, yes, there's a wait on this on Netflix, but there are still ten holds of [i]Life[/i] on the library's list, so that's no help. But what got me is that we have once again found a movie that's in here twice. Who exactly is manning the database over at Rotten Tomatoes? I have long asked the question, "Does anyone know who else was reporting when Apollo 11 landed on the Moon?" You see, in the United States, there is one answer to the question of who was broadcasting Apollo 11 and there is one answer to the question of who was broadcasting when John Kennedy was assassinated. In the United States, it was Walter Cronkite. However, this was not the case in the United Kingdom. For the British, there was Sir Patrick Moore and a young James Burke broadcasting about Apollo. (I don't know about JFK.) This is not so much a movie as a summary of the BBC's coverage of the events leading up to those first historic steps. It includes the somber voice-over during the actual Apollo footage and the more frivolous behaviour of Burke as he explains the science and technology, mostly the technology, to the BBC audience. The two probably spent a lot more time than this covering the events; indeed, we know they did, because this isn't even all the footage from that night. But it's the big stuff. James Burke, I have loved of old. However, I had only ever thought of him in the context of [i]Connections[/i]. Really, he wasn't that much younger here, but this footage does include the most exuberant, joyous footage I've ever seen of him. I don't know if this is a difference between American and British coverage of the space race or if it's simply that I haven't seen the corresponding American footage. However, it's easy to see the seeds of [i]Connections[/i] in, for example, his crowding into the actual capsule and going down the actual escape tube. He even, Gods love him, got to go for a ride in the Vomit Comet, and that's where he seems basically just giddy. Not that I blame him. I recently saw for the first time a picture, which turns out to be a few years old, of Stephen Hawking having the same experience. Inasmuch as his face has expression at all anymore, he is obviously wearing an expression of delight. Whereas the other people are really, [i]really[/i] hoping they don't drop him. Honestly, I really wish more Apollo programming shown today involved some of the stuff we see from James Burke. It is often speculated that the reason it's so easy for some people to believe Apollo was faked is that they don't know much about the Apollo record. They see little tiny clips of footage and don't realize that it goes on uninterrupted for hours. They hear about Moon rocks, and they don't realize that there are hundreds of pounds of them, including long core samples. In general, there seems to be a lot that people don't know, and while some of it is extremely technical, Burke is able to reduce it for us without making us feel stupid. He also has remarkable access to NASA, it seems, and I wonder how many other reporters did. It's not as though you can't even just book the Vomit Comet these days, and quite a lot of Apollo was about public relations. But they never show this stuff, and I think they ought. Of course, I can only be so smug. One of the boards I'm on is about Apollo, and the hoax section has twice the posts of the reality section. (That's debunking, not accepting.) And the thing is, I never go into the reality section, the part of the board where people discuss technical things. The fact is, I don't really understand them. They start laying out strings of numbers, and my eyes glaze over. They have details about radiation, engineering specs, and so forth. I barely remember any of the physics I learned in high school, and I've never actually taken chemistry. I am not a scientist. I don't even play one at home. However, the reason I hang out in the hoax section is that the people there are very, very good at breaking technical stuff into bite-sized pieces so that even I can understand it. And there are so many things which don't require much in the way of scientific training to understand. This shows a lot of those things, and it shows a lot of them in the moment. You are not too dumb to understand; you are intelligent enough to be educated.
Edith Nelson
½
"Apollo 11: A Night to Remember" (Acorn Media Group)-This BBC production is an excellent look back at man's first steps on the moon from a uniquely British perspective. The 40th anniversary of the mission begins on July 16th, the day that Neil Armstrong, Buzz Aldrin and Michael Collins blasted off from Cape Canaveral into the history books. This documentary is hosted by Sir Patrick Moore, one of the key BBC journalists covering the mission. But, mostly it's archival footage condensed into a never-boring two hour re-visiting of those historic days. Grade "A."
Paul Chambers
Apollo 11: A Night To Remember Quotes
There are no approved quotes yet for this movie.