Appetite
(1998)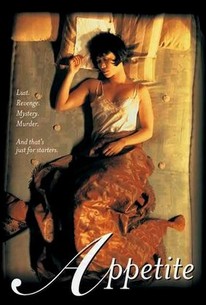 AUDIENCE SCORE
Critic Consensus: No consensus yet.
Movie Info
George Milton directed and co-wrote this quirky and riveting British thriller set in a crumbling old hotel run by a suspicious-looking manager named Jay (Trevor Eve, who played Harker in the 1979 Dracula). A group of strangers, gathered by an obnoxious young sailor (Christien Anholt) to celebrate his birthday, plays cards to determine which of them will spend the night in Room 207. The room is reputed to be haunted and a place where one "dreams the dreams of the ones who slept before you." Susie (Yse Marguerite Tran), an Asian woman who came to the hotel ostensibly to meet "someone special" is first, witnessing an appalling scene combining apparent oral sex and childbirth. She was dreaming the same dream the manager had when he slept there last. As the days and nights progress, more of the guests' dark secrets begin to come to light, leading them all to know far too much about each other's personal lives. One is there to avenge his dead son; another is seeking the birth-mother who rejected her; another is a suicidal former centerfold. There's robbery, drug abuse, perverse sexual behavior, and it's all somehow tied in to the hotel's creepy chef (George Lentz) and his dull-witted assistant (Detlef Bothe), leading inevitably to murder. Ute Lemper stands out as the mysterious Greta, Milton's direction is assured, and the film's look and feel often bring to mind a self-contained variant on Twin Peaks at its best. George Harris and Edward Hardwicke co-star. ~ Robert Firsching, Rovi
Rating:
R (For mature themes, language, violence, nudity, and sexual situations.)
Genre:
,
Directed By:
In Theaters:
On DVD:
Runtime:
Audience Reviews for Appetite
½
Decently acted, well shot. In my opinion, it doesn't really belong in the horror genre, but I'd be hard pressed to say where it does belong. An interesting film, but one of those that has you thinking "there must be something more here".
John Wagner
Appetite (George Milton, 1998) Netflix Instant bills George Milton's debut, Appetite, as a horror film. Having now watched it, I've no earthly idea why. At best, one could say it has touches of magical realism; the movie's plot revolves around a hotel room that is incorrectly perceived as haunted (one in which, the hotel's head chef tells us, one "dreams the dreams of the one who slept there before you"). That, however, is the only horrific aspect; everything else plays like a thriller with a bit of black comedy mixed in. Which is not to say it's a complete write-off, but know what you're getting into. Plot: The Station Hotel, somewhere in England, some time in the past (I got the feeling it was set during, or just after, World War II, though it is never explicitly stated; it is possible the film was meant to take place in 1998, for all I know). Jonathan (Love Actually's Edward Hardwicke), the hotel's beleaguered owner, is just about to settle in for another night of nothing to do but give a local hooker (These Foolish Things' Nicky Ladanowski) and her current john a stern talking-to when a guest-a REAL guest rather than one who rents by the four-comes in looking for a room for a few nights. That alone may well have been of note...but one guest turns into a stream of them, and pretty soon the place is full up. The guests have settled into the common room for a night of conversation and cards soon after when head chef Wim (Autumn Blood's George Lenz) relates the obligatory hotel ghost story: anyone who spends the night in Room 207 gets the dreams of the person who stayed there last instead of their own. Needless to say, everyone decides to play a quick game of cards to decide who will be spending the night in Room 207, and the cards settle on Susie (The Truth About Charlie's Ysé Tran). The dreams she has reveal that not all of the hotel's guests are new to its embrace...and the dreams she leaves behind for the next night's guest are only part of the ever-shifting story of the Station Hotel. I had to make Susie's story the centerpoint of that plot synopsis, and because of how it begins unfolding in the movie, it does seem to have some weight to it, but this is an ensemble cast working out an ensemble plot. One of the guests is at the hotel to confront the man whom he believes murdered his son. Another (played by the mighty Ute Lemper) is an old flame of Jonathan's stopping by to see if there might still be anything between them. (Jonathan, meanwhile, is hung up on Susie, despite being old enough to be her father.) The chefs are always on the lookout for interesting things to toss in the soup. Oh, and who stole the money from the sailor looking for a good time whilst on shore leave? All threads in this fabric. That's a tough task to take on as a first-time director; even tougher, one thinks, if one is also a first-time screenwriter (Milton, adapting his own story, co-wrote with Blood director Charly Cantor). More, Miller could have taken the easy way out-made it an anthology film instead of trying to weave it all together-and he didn't. I can find all sorts of things to commend George Milton for when it comes to the concept here. The execution...not so much. I wish I could say Appetite didn't end up a muddled, unfocused mess, but I can't. It's rather pretty, and much of it is well-acted, but it lacks the necessary sharpness to be carried off. I'd love to see someone who's got an affinity for that sort of multi-valued story structure do a remake of this movie; there is something very, very good just below the surface here. But in its present incarnation, it barely gets any chance to do more than see the light of day every once in a while through a fishtank wall crusty green with algae. **
Robert Beveridge
½
A very interesting and well acted film, to spite the fact that it feels a little slow and convoluted. I was expecting more of a horror film based on what I had read about it, but it really is more psychological thriller then a horror film. I t did keep my interest, I only wish I could say that the "pay-off" was worthy of the potential that is here.
Appetite Quotes
There are no approved quotes yet for this movie.