Applause
(1929)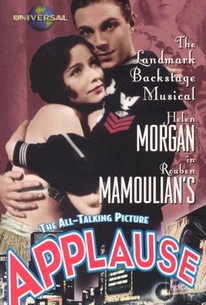 Movie Info
Early talkie in which an over-the-hill burlesque singer tries to shelter her convent-raised daughter from the harsh realities of her life. Film debut of director Rouben Mamoulian, who brought tremendous invention to his use of the camera as well as an innovative approach to sound.
News & Interviews for Applause
Critic Reviews for Applause
Audience Reviews for Applause
Applause is familiar in its plot and characters and its ending is admittedly ridiculously harsh, but this is still such a good early sound film with some excellent, really groundbreaking camera movements and sound quality at display here and it is an excellent mix of musical, melodrama and romance with many dramatic and heartbreaking scenes, but also having many truly wonderful, romantic sequences that are so charming. It is a weird, but memorable early talkie.
David Lazovic
In "Applause," Thea(Paprika Steen) is just out of rehab and acting in a production of 'Who's Afraid of Virginia Woolf?' Otherwise, she is trying to get her life back together, with her ex-husband Christian(Michael Falch) having already re-married to Maiken(Sara-Marie Maltha), a psychologist. That becomes increasingly important for Thea, especially as it regards potential custody of her two young sons. While "Applause" has its strengths in being a character study, it is often just as obvious, which is best exemplified in its choice of a play within the movie.(Admittedly, 'Who's Afraid of Virginia Woolf?' does sound better in Danish than in English.) Plus, Paprika Steen's lead performance is more showy than powerful as a character whose issues may extend beyond her addictions.
½
I found the trailer online the other day and I can't wait to see it. Steen is a powerful actress and can make any film incredible.
Kyle Schee
Applause Quotes
There are no approved quotes yet for this movie.
Discussion Forum
Discuss Applause on our Movie forum!