Appointment with Crime
(1945)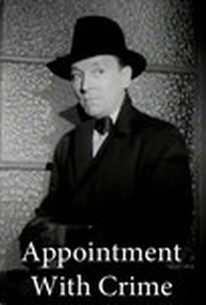 AUDIENCE SCORE
Critic Consensus: No consensus yet.
Appointment with Crime Photos
Movie Info
Leo Martin (William Hartnell) is a low-level member of a smash-and-grab gang run by shady dance-club owner Loman (Raymond Lovell), who is cajoled into a risky job on a major jewelry store. When the robbery goes wrong, and Martin is caught (and his wrists broken), the hood keeps silent and does his stretch in prison -- all along, he nurses a grudge against Loman and his driver Hatchett (Victor Weske) for running out on him. And that grudge grows to full-blown, murderous vengeance when Loman blows off the newly-released Martin as no use to the gang (as his hands aren't what they used to be). Now Martin plans to get even by squeezing Loman dry of everything he has, starting with his peace-of-mind -- he implicates the club owner in a murder, while planning a seemingly perfect alibi for himself, and also manages to latch on to the ring-leader that Loman is fronting for, "respectable" art dealer Gregory Lang (Herbert Lom). Lang has a knack for tying up loose ends -- including Loman -- and thinks he can handle a low-level spiv like Martin, but he doesn't reckon with the latter's rage, deviousness, or resourcefulness. Martin's planning gets him past all of the obstacles in his way, even -- so it seems -- the plodding efforts of Inspector Rogers (Robert Beatty), still investigating the killing that put Martin's plan into operation. ~ Bruce Eder, Rovi
Critic Reviews for Appointment with Crime
There are no critic reviews yet for Appointment with Crime. Keep checking Rotten Tomatoes for updates!
Audience Reviews for Appointment with Crime
½
"Appointment with Crime" starts with a smash and grab going badly awry for Leo Martin(William Hartnell) as he is not only arrested but breaks his wrists in the bargain. Still feeling the pain years later when he is released from jail, he seeks revenge on his two former partners, Gus Loman(Raymond Lovell) and Hatchett(Victor Weske), by first trying to shake down Loman for money. Loman then tries to double cross Martin but he beats him to the punch, using a dance hall girl, Carol(Joyce Howard), as an alibi. What separates "Appointment with Crime" from other crime movies is the character of Leo Martin. Unlike many other characters seeking revenge, Martin's rationale is purely imaginary because there is nothing Loman or Hatchett could have done to help him when he got arrested. Normally, there is at least some actual reason involved like the death of a family member or the kicking of a beloved animal(unleashing hordes of undying PETA ninjas) which still does not excuse the acts of violence in any case. So, while not thinking coherently, Martin passes up a chance to lead an honest life while his old partners have at least given the appearance of going straight or gay, as the case may be.
Appointment with Crime Quotes
There are no approved quotes yet for this movie.