Appointment With Danger
(1951)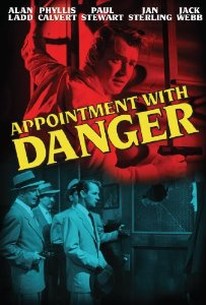 AUDIENCE SCORE
Critic Consensus: No consensus yet.
Appointment With Danger Videos
Appointment With Danger Photos
Movie Info
In this film, Al Goddard, special investigator for the U.S. post office, is assigned to collar two criminals who've murdered a postal detective. Goddard must first locate the only witness to the crime, attractive young nun Sister Augustine.
Critic Reviews for Appointment With Danger
All Critics (2) | Top Critics (1) | Fresh (1) | Rotten (1)
Appointment With Danger not only proves that crime does not pay but that it can be interesting to observe.

New York Times
Top Critic

Ozus' World Movie Reviews
Audience Reviews for Appointment With Danger
You See, It Was the Best Netflix Instant Play Had Harry Morgan died today. He was ninety-six. He's been a major part of my life as long as I can remember. I was six when [i]M*A*S*H[/i] went off the air, and by then, the family was watching it both new and in syndication. He was also in a lot of the movies that mean a lot to my family--three live-action Disney movies. [i]Support Your Local Sheriff[/i] and [i]Support Your Local Gunfighter[/i]. The 1987 [i]Dragnet[/i], not to mention the 1967 TV series. (Mom's a fan of that latter.) And of course, he was in all sorts of classic films, from [i]High Noon[/i] to [i]Inherit the Wind[/i]. But I've done both of those. I've done [i]Dragnet[/i] and [i]Support Your Local Sheriff[/i]. Not [i]Gunfighter[/i], but I'm not much of a fan of [i]Gunfighter[/i]. And Rotten Tomatoes has "Goodbye, Farewell, and Amen," but I haven't watched it in years. So I searched Netflix Instant Play, and here we are. One dark and stormy night, a nun (Phyllis Calvert) sees two men (Morgan and Jack Webb, of all people) "helping a drunk friend." She mentions it to a policeman, who is unfortunately required to go chase a speeder before he can look into it. The "drunk friend" turns out to work for the US Postal Service, and in point of fact they've killed him. The USPS sends out Al Goddard (Alan Ladd), Detective for the United States Postal Inspection Service. He goes undercover in search of the Bad Guys, who are led by the ominous Earl Boettiger (Paul Stewart). He inveigles his way in, though Boettiger doesn't trust him. They're also in search of the nun who saw it all, and it's not because they want to join her prayer circle. Goddard has to simultaneously figure out what their plans are, protect Sister Augustine, and ensure that the Mail Goes Through. And honestly, that's about as much as I kept track of. It's a B-picture sort of film with an A-list star. It turns out that the death of a postal employee, especially in the course of duty, is a federal crime actually investigated by the US Postal Inspection Service. The crime here goes even beyond that and eventually turns out to include Stealing From the Mails (which got Charlie Manson busted once upon a time), so but all it really took was one postal worker's death while at work. (There's a [i]Law & Order[/i] where they investigate the death of a postal worker while on duty, as I recall, but [i]Law & Order[/i] often got involved in complicated jurisdictional issues.) Admittedly, it's not the agency you think of, when you think of daring agencies around which to center movies, but there was this perverse tendency to do that in the '50s, to do movies about the more obscure law enforcement agencies in the US. You'd get dramas about the Secret Service, and not about the protecting the President angle. About fighting counterfeiting, which is the other thing the Secret Service does. What was far more odd was seeing Harry Morgan and Jack Webb as the heavies. Jack Webb was already on the radio version of [i]Dragnet[/i], the role for which he was known best, but Harry Morgan was only a minor character actor not well known for much of anything yet. He wouldn't join the cast of [i]Dragnet[/i] for sixteen years and [i]M*A*S*H[/i] for eight years after that. Audiences at the time probably would have found it a little odd to have the voice of Joe Friday--the show wouldn't air on TV for several months yet--act as a crook, but they had no mental connection between Morgan and Webb. Whereas the first thing someone with my cultural markers notices is that Joe and Bill were murdering a guy in full view of a nun, and that's just weird. It is the eternal problem with watching older movies. We can't know where the future is going to take us [i]or[/i] our pop culture figures. I admit I don't know if it's just a weird coincidence or if Webb remembered Morgan and brought him on in later years, but it's still jarring. Mostly, the movie is forgettable. It's not the best tribute to Harry Morgan available, though it was the best available on short notice. I'm also watching season five of [i]M*A*S*H[/i], but again, the only part of the TV show it'll let you review is a few seasons beyond that. I think Harry Morgan was one of the greatest character actors of his generation, along with Eli Wallach (who turns ninety-six today), and I think we were very lucky to have him. I'm given to understand that he was the best of the [i]M*A*S*H[/i] cast members at making the other people in a scene break up, ruining the take. He was, however, a great straight man. He said he wasn't sure if being on [i]M*A*S*H[/i] made him a better actor, but he said it made him a better man. He was in some of the great social dramas of the twentieth century. He knew that you couldn't even taken your own iconic roles too seriously, hence his appearance in [i]Dragnet[/i]. He hasn't done anything in a long time, but it was always nice knowing he was there.
Edith Nelson
Ladd busts a mail robbery in the most complicated manner imaginable. Marred by subplot involving a nun. Nuns have no place in cinema because they are boring and make me reach for the remote immediately.
VJ Boyd
Appointment With Danger Quotes
There are no approved quotes yet for this movie.
Discussion Forum
Discuss Appointment With Danger on our Movie forum!