April's Shower
(2004)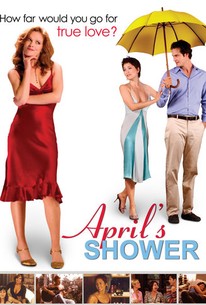 Movie Info
A woman negotiates the tricky etiquette of celebrating the wedding of her former girlfriend in this independent comedy. April (Maria Cina) and Alex (Trish Doolan) are close friends who have something of a past together -- both are lesbians, and they were lovers for several years. Alex is still attracted to April, but April has moved on -- so much so that April one day announces that she's going to marry Pauly (Randall Batinkoff), a pleasant but dull man who was introduced to April by her mother (Molly Cheek). Understandably, Alex is a bit taken aback when April asks her to be her maid of honor, but for the sake of their friendship she accepts. However, things get a bit frazzled when Alex has to put together a bridal shower for the woman she still loves. April's Shower was the first feature film from writer and director Trish Doolan, who also plays Alex.
Critic Reviews for April's Shower
Audience Reviews for April's Shower
I was very open to enjoy this movie and did at the beginning. It was pleasant and entertaining if you could ignore the 'dop-tee-do' music. It had an interesting premise and I went with it for awhile until it got sillier and sillier and went on and on. Toward the end, what the characters were doing and how they were reacting was so improbable. [img]http://images.rottentomatoes.com/images/user/smilies/rolleyes.gif[/img]
Cindy King
½
Way too talky for it's own good and very claustrophobic. The acting is okay, but not very natural . The script is trite and not very believably done. Fair.
James Higgins
½
OK, hear me out. Mediocre acting and shoddy filmmaking didn't ruin this for me. I saw it shortly after Intentions, which made it look Oscarworthy lol. I thought the story and the dialogue were great, but I would have chosen more capable and more attractive leads.... sorry if that sounds shallow, but come on.... then, enter HONEY LABRADOR!!!! ahhhhh *swoons*.... and how great is it that she looks like that AND can act!? Loved it:) Anyway, despite its shortcomings, I do think this is a worthy flick. The supporting cast of characters is absolutely hilarious... they feel like your own crazy friends and family:)
Lisa Kretschman
April's Shower Quotes
There are no approved quotes yet for this movie.
Discussion Forum
Discuss April's Shower on our Movie forum!