APT. (9:56)
(2006)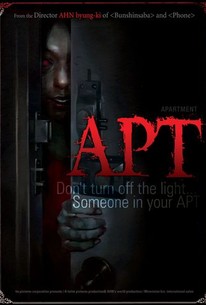 AUDIENCE SCORE
Critic Consensus: No consensus yet.
Movie Info
Se-jin, a young woman who lives in an old apartment in a Seoul suburb, amuses herself by observing the windows of the apartments on the other side. One day, she notices that the lights of some of these apartments are turned off at the very same time. She begins to suspect that this pattern is somehow related to a series of mysterious deaths in the neighborhood. She becomes more and more deeply involved as she attempts to solve the mystery.
Critic Reviews for APT. (9:56)
There are no critic reviews yet for APT. (9:56). Keep checking Rotten Tomatoes for updates!
Audience Reviews for APT. (9:56)
½
It is undeniably scary and creepy but that is what asian horror is about but APT has a wide perspective and a quite satisfying story that strays from other asian horrors.
August Seria
Super Reviewer
What we have here is a Korean horror picture by the name of APT. aka 9:56. At this point in time, there is nothing originally new, but it is a good film nonetheless.
The story involves revenge, which is a fairly common theme among Korean films, and the setting takes place in an apartment building. Hence Apt.. While the story may not be anything spectacular, as there are no huge twists, it is a fitting one for a horror film.
The time will not fly by, despite its 90 minute run time, because the pacing is slow. The very beginning gives only a hint of what is to come before the movie unfolds slowly, but effectively. The nice thing about this picture is that the last 20 minutes or so unveils almost everything, but still leaves an ending to think about.
As usual, the Asian style of horror films are different from Hollywood ones. The suspenseful level is pretty high, but the jump out of the seat scares are few, if any. Instead, the scare factor comes in the form of a creepy looking long-haired person, ghost, or whatever. If I saw what I saw in this movie in real life, I wouldn't think twice about bolting after I piss my pants. The excellent camera work, sound effects, and lighting also work well for the film's creepy atmosphere.
The gorgeous So-young Ko, of Double Agent, is a nice lead. Her character doesn't involve the usual screaming and running either. The other supporting characters are also nicely done.
Apt. may lack some originality in the horror department, but that doesn't make it a bad movie. Korean horror fans will want to consider this.
½
K-Horror from the director of 'Phone', this moody film starts out simple enough but becomes more complex as it develops at a slow, calculated, deliberate pace. The viewer will experience some sudden jolts meant to startle while trying to unravel the mystery of apparent suicides taking place in an apartment tower. The answer comes in the final 20 minutes, as the dirctor gives it to us in paint by numbers fashion, since the lead character and the police detective could not solve the crimes first--a glaring plotline flaw which deserved a re-write rather than this band-aid approach. The movie ends in predictable, cliche driven fashion; been there, done that. Decent entertainment, just not hall of fame worthy...
APT. (9:56) Quotes
There are no approved quotes yet for this movie.
Discussion Forum
Discuss APT. (9:56) on our Movie forum!